Since we are just starting our Permaculture garden, I don't have a checklist to go by yet!  So, I'll have to modify the one we already have to Permaculture!  It is one I adapted from Southern Living Magazines years ago.  Note this is for Zone 7, for other zones, you will have to adjust the list to fit your area.  Here is a map to help you identify your region.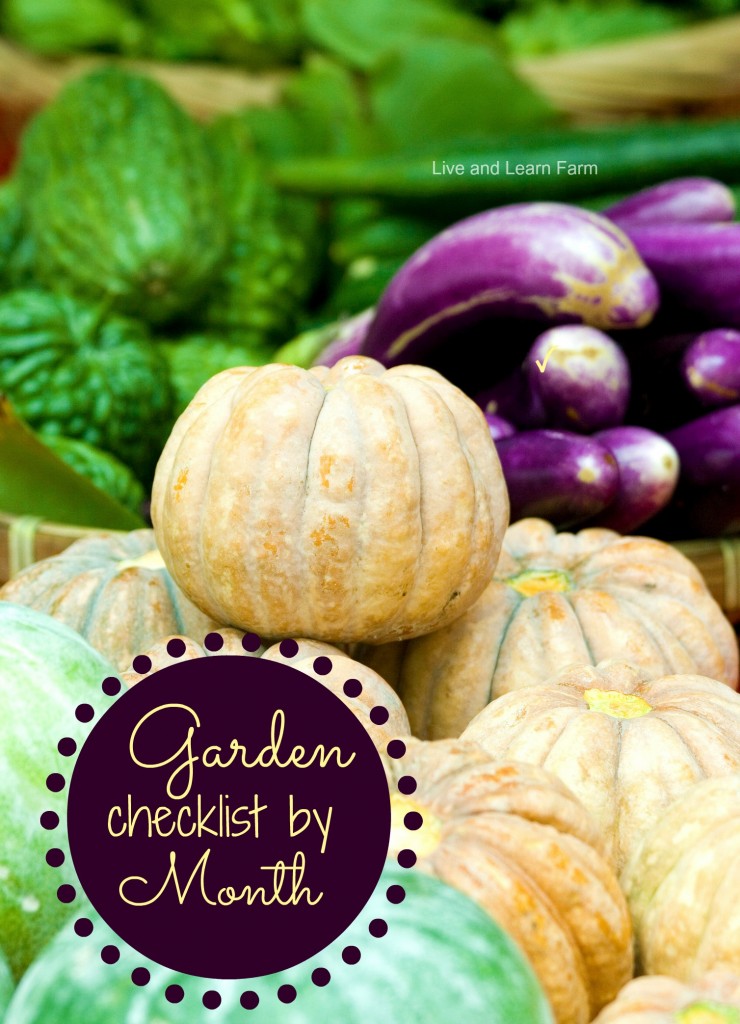 Note the Last Frost date for zone 7 is approximately April 15th.  First Frost approximately November 13th. 
January
Inventory and Order Seeds

Prune shrubs (not flowering shrubs)

Prune fruit trees (tipping the main stem & main branches).  Apples and Pears:  Prune branches competing with the leader branch, branches that cross, grow inward, appear broken or disease or rise abruptly from horizontal branches.  Remove suckers from the base. 

Plant new shrubs and trees

Till garden when dry, working in compost  NOTE:  Back to Eden Gardens do not require tilling

Plant blueberries

Early January, plant Artichoke in greenhouse, move to 4-6 weeks at 35-50 degrees. Two weeks after last frost, plant in bed. 

Late January, plant Asparagus, cauliflower, cabbage, collards, broccoli, hot peppers in greenhouse.  Move outside after last frost. 
February 
Plant trees

Plant mustard, spinach, radish, Snap peas, English peas in garden. 

Prune Trees (except maple and birch)

Start seeds (mid February) for Sweet Peppers, eggplant, celery, brussels sprouts, Stevia, Thyme, Chamomile, toothache plant, sage, tarragon, rosemary, sweet marjoram, spearmint, parsley, and Chives (and Zinnias) indoors move outside after last frost.

Till garden when dry NOTE:  Back to Eden Gardens do not require tilling
March 
Place birdhouses out. 

Plant seeds for beets, carrots (every two weeks for 8 weeks), turnips, Onions, Leaf Lettuce, Head Lettuce, broccoli, Cauliflower, collards, oregano and turnips in garden.   

Transplant broccoli, cabbage, cauliflower, onions, turnips, radish, and potatoes (after danger of a hard frost)

Divide and plant mature clumps of hostas.

Plant roses (bare root during early March) and bachelor's button. 

Start watermelon, cantaloupe and pumpkins (early March), in greenhouse, sweet basil, move outside after last frost. 

Plant Dill, sweet basil, fennel, cilantro and flax (every few weeks for 8 weeks) in garden around last frost. 
April 
Set out transplants of Tomatoes after danger of the last frost (first two leaves should touch the soil)

Shape and prune azaleas, camellias, wisteria immediately after they have finished blooming. 

Plant Mint, Lavender, Oregano, Thyme, and Sage in garden.

Plant perennials: Black Eyed Susans, Purple Coneflowers, Goldenrods, Daylilies, Hardy Begonias. 

Plant sweet corn, bush pole and snap beans.

Prune crape myrtles.  
May 
Divide clumps of daffodils and replant now.

Add extra mulch to new planted trees and shrubs

Plant impatiens and begonias in shady areas

Plant petunias, baby's breath, morning glory, sunflowers, marigolds in sunny areas

Plant bulbs of caladiums, calls, acidanthera, gladioli, cannas, dahlias, and tuberoses

Mid to late May, plant summer and winter squash, tomatoes, butter beans, cantaloupe, cucumber, okra, Field peas, sweet and hot peppers, Sweet potatoes, pumpkin, and watermelon

Cut back leafless mats of thyme stems to the point where new growth begins.  
June 
If tomatoes have rotten spots on the bottom, the problem is variation in moisture.  Mulch to conserve moisture.

Plant sunflowers and keep moist. 

Plant transplants of irises.  
July 
Cut Basil stems back by one-thrid and place the cuttings in a vase.  They will reroot. 

Plant seeds for zinnias, cosmos, and sunflowers in a sunny area.

Plant pumpkins

Plant cuttings:  hydrangeas, roses, viburnums, azaleas and other wood trees or shrubs.  Cut stems that grew this year, remove the lower leaves, dip each stem in rooting hormone and plant.  Cover with a class jar or plastic bag. 

Add mulch to gardens and boxes.

Plant fall crops mid to late July:  Bush Snap beans, Broccoli, Cabbage, Cauliflower, Collards, Cucumber, Lettuce, Squash (summer), Tomatoes, and Potatoes.  
August 
Plant fall radish, turnip and dill (mid August) crop.

Plant late summer bulb Colchicums

Vegetable beds that are not used for a fall crop should have clover planted on it. 

Order spring flowers bulbs now to plant in fall. 

Divide spring blooming perennials (such as Iris and daylilies).  Dig clumps, divide tubers and roots.  Replant in groups for impact. 

Mulch azaleas and camillas. 

Plant fall crocus.  
September 
Plant fall spinach, lettuce, and radish crop.

Plant more dill and cilantro if needed.

Sow perennial ryegrass over Bermuda for green all winter long. 

If fruit tree branches are bowing due to heavy fruit, place a 2×4 with a v notched out of it. 

Continue to cut herbs for drying, freezing and putting in vinegars. 

Pinch back marigolds, cosmos, zinnias and salvias to extend their flowering time.

Plant trees and shrubs.

Pinch back basil to produce foliage.

Dry the flower heads of zinnias, cosmos and Mexican sunflowers and store the seeds.  
October 
Plant pansies and violas. 

Plant fall flowering perennial plants. 

Watch for early frost forecast and cover tender plants.  Cover with sheets, burlap, bags, boxes or baskets.  Uncover as the temperatures rise. 

Get yard cut with a mulching, bagging lawnmower.  Use the clippings on your compost. 

Sow poppy seeds, bachelor's button and larkspur for flowers next spring. 

Divide hostas, daylilies, iris, coneflowers, daisies and ferns.  Reset divided plants at the same soil level and water well. 

Take cuttings of tender annuals such as coleus, salvias bergonias, impatiens.  Dip each cutting in rooting hormone and plant.  Keep watered and out of direct sunlight.  Place in greenhouse. 

Plant cool-weather annuals, such as pansies and violas.  
November 
Winterize mower, trimmer, edger and any other tools by running them until the tank is empty.  Don't use aged gas, it will mess up equipment in the spring.  Disconnect spark plugs (and replace if dirty), change the oil, clean air filter, and have blade sharpened. 

Bring in sprinklers and hoses.

Bring in clay pots.

Plant bulbs (daffodils, hyacinth, snow drops, tulips, anemones, and crocus. Plant at a depth of three times the height of the bulb), trees, shrubs, vines and strawberries in sunny locations.

Roses, spireas and hydrangeas:  get a branch that will reach the ground, work the soil where it touches, and nick the bark at the point of contact.  Secure the branch in place with a brick.  
December 
Clean, sharpen and repair garden tools

Mulch 2-3" of pine straw, leaves or shredded bark.

Plant camillas. 

Rosemary must have a light frost before being brought into greenhouse. 

Plant Amaryllis in pots.  Plant bulb so neck is sticking out about an inch.  Water well and place in greenhouse. 
As we establish the dates for Permaculture gardening, if they are different than these, I will adjust this schedule.    Until next time!  
The following two tabs change content below.
Trish has been married to her best friend, David, for 16 years and they have three sons (aged 13, 12 and 9). Trish is from the coast of North Carolina, but they now live in rural West Tennessee on a 40+ acre farm. She has been homeschooling since 2009 and her homeschool style leans towards a Montessori approach with a heavy emphasis on hands-on learning. They also own a small business that Trish runs from home. Trish's family is Messianic and they love studying the Scriptures, learning Hebrew and growing in their faith and walk daily. In her spare time, Trish loves to write, work in their garden and can regularly be found trying to learn something new, modeling that learning is indeed a life-long endeavor!
Latest posts by Trish Corlew (see all)