As most of you know, we are converting from traditional gardening techniques to a permaculture garden this year, so I wanted to give you all a quick Permaculture Garden Update.  We have been busy trying to get mulch in place and seeds planted.   Well, we have finally seen a few signs of life under all that mulch (besides weeds), so I wanted to share our pictures of our first plants.  We have not watered the mulch once!  How exciting is this!!!  
We have planted all the cold weather crops (except Kale and I'm hoping we are not too late to get one round in the ground next week).  We are getting the spring crops in the ground slowly but surely!  We have tomatoes, bell peppers, hot peppers, and catnip planted in the greenhouse, but we are having a hard time remembering to get in there and water!  I guess that is a result of NOT having to water the rest of the garden!  Will have to stay on top of this one better!  I'll continue to post pictures as the plants start peeking out!  
I was really worried about the nitrogen levels of the ground the first year… so this is exciting to see any plants successfully growing.  It may not last, but we are praying we have a bumper crop this year.   If you are not familiar with the concept of permaculture gardening, think about a forest floor.  There you will find extremely rich moist soil that is not watered at all…  yet all these plants continue to thrive and grow year after year in the forest.  We are attempting to recreate this concept.  I first learned about it via a video called "Back to Eden Gardening".  I talked with Paul Gautschi (the gardener in the video) and we decided to convert our raised beds to wood mulch planting this year.  So far, I'm thoroughly impressed and totally excited about the planting season!  For anybody that has gardened without the luxury of a tractor, you know that is not common to hear somebody being excited about planting!  I was and still am!  
Our "to do list" is a mile long and continues to grow, but we are chipping away at it and will do the very best we can.  And that will be good enough!  Anyway, here are some pictures from the first little plants out of the ground!!!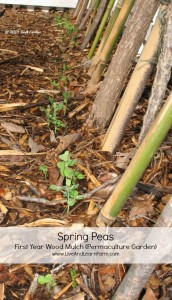 Until Next Time…. 
The following two tabs change content below.
Trish has been married to her best friend, David, for 16 years and they have three sons (aged 13, 12 and 9). Trish is from the coast of North Carolina, but they now live in rural West Tennessee on a 40+ acre farm. She has been homeschooling since 2009 and her homeschool style leans towards a Montessori approach with a heavy emphasis on hands-on learning. They also own a small business that Trish runs from home. Trish's family is Messianic and they love studying the Scriptures, learning Hebrew and growing in their faith and walk daily. In her spare time, Trish loves to write, work in their garden and can regularly be found trying to learn something new, modeling that learning is indeed a life-long endeavor!
Latest posts by Trish Corlew (see all)