We have been in full swing for about a month now in the garden.  We are switching from traditional gardening techniques to permaculture gardening and have been in planting mode.  All the cold weather crops were planted weeks ago.  We have been planting early spring crops for a couple weeks.  Just got horseradish in the ground and have so much more to do!  The fruit trees, blueberries and strawberries are in full bloom. The apple trees are blooming at the same time for the very first time since we planted them four years ago.  So this is the first season we even had any hope of getting an apple.  
You are feeling pretty good about the progress you are making and the items that are getting knocked off your garden to do list and then you see this on your Facebook page from your local weather man.  I posted it with this comment:  "YOU HAVE GOT TO BE KIDDING ME!"  This crazy weather is getting crazier!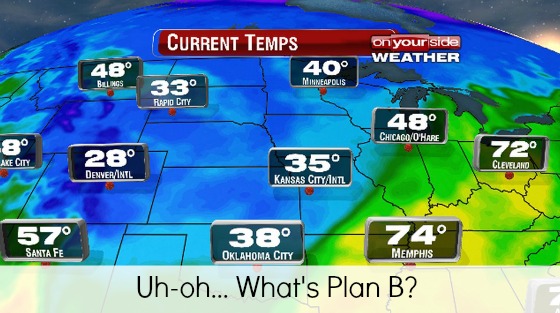 The usual "Plan B" is to cover your crops and wait it out.  But that is not feasible  with fruit trees in a backyard garden environment.  Situations like this just makes me realize that no matter how planned and prepared we think we are, think again!  
I have always thought that Joseph's Biblical example was to be our example… be prepared.  You remember, 7 years of plenty with putting back for the seven lean years?  But I have since come to realize that the blessings, the miracles, full protection and full supplication happened in the wilderness!  When they were completely reliant on God for every aspect of their very existence!  
Men will disappoint us, the weather will surprise us, but God doesn't change.  It is in the wilderness where we will be provided for.  If you are unfamiliar with the provision He provided in the wilderness, pull out your Bibles and reread Exodus.  
Well, I'm off to go figure out how to cover what I can!  Until next time!  
The following two tabs change content below.
Trish has been married to her best friend, David, for 16 years and they have three sons (aged 13, 12 and 9). Trish is from the coast of North Carolina, but they now live in rural West Tennessee on a 40+ acre farm. She has been homeschooling since 2009 and her homeschool style leans towards a Montessori approach with a heavy emphasis on hands-on learning. They also own a small business that Trish runs from home. Trish's family is Messianic and they love studying the Scriptures, learning Hebrew and growing in their faith and walk daily. In her spare time, Trish loves to write, work in their garden and can regularly be found trying to learn something new, modeling that learning is indeed a life-long endeavor!
Latest posts by Trish Corlew (see all)