Over in our Hip Homeschool Moms Community, I read the posts by the moms struggling to have time to get everything done. I can't buy you more time, but I can help you organize your menus. I have found that if I'll just commit it to paper, I will cook it! I don't know why, but the guessing and questioning "What's for dinner?" is harder than doing the menu plan! I'm sure there is some great psychological reason behind it… I just know it works, so I do it.  So here is my March Menu Plan.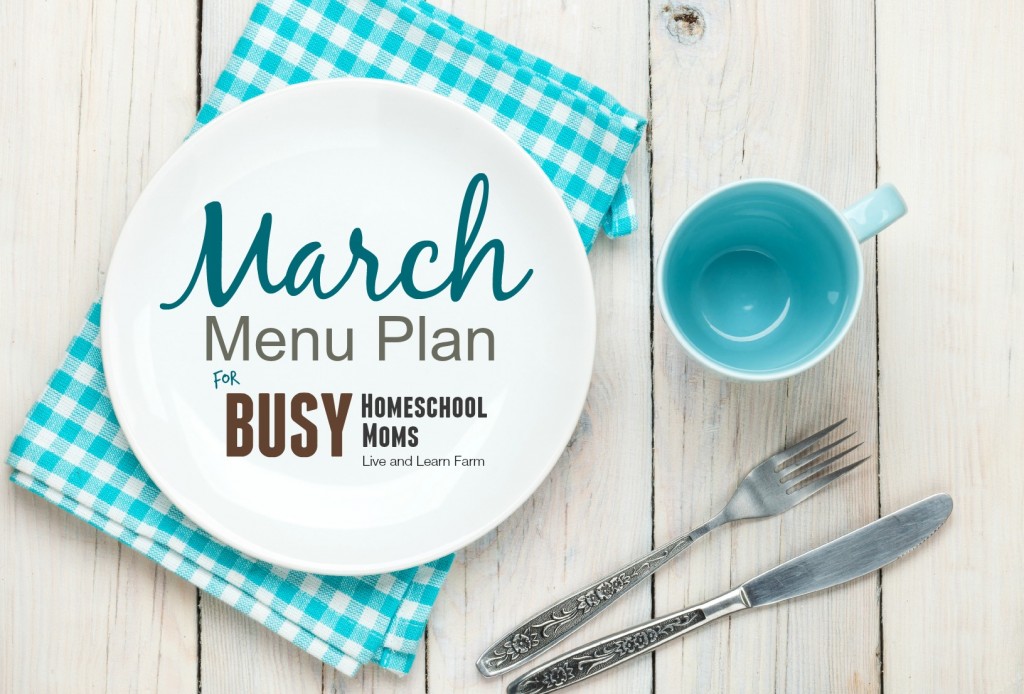 Also, menu planning saves money. Many know about our struggles to keep our home and for me to able to continue to homeschool, so saving money is a big deal around here. One of my secrets is my hubby hunts. We use 2 lbs of meat in our ground beef recipes… but one of those pounds is ground venison. That saves us a little right there. Also, we live in the country, so we tend to buy in bulk instead of shopping the sales.
Many moms in the group just want ideas of what to cook. So I thought I would create a monthly menu plan with a Pinterest board to match, so you can find them easily and pin them yourself.  And yes, I know March is 1/3 over, but hey, you gotta' start somewhere, right? Anyway, I hope this helps you and gives you some motivation to get it done!!
If you don't have a crock pot, you need to get one. That is one of my secrets for saving time. I can put dinner on in the morning while we are still getting ready to start school and it is ready when we are finished. My favorite crock pot cook book is Fix it and Forget it. We have cooked dozens of their recipes and they are all good.
I just keep my menu plan on my normal calendar. This is one I got back in December with one of those fabulous lightning deals I'm getting known for …. It is a Lily Pulitzer calendar! I just love it.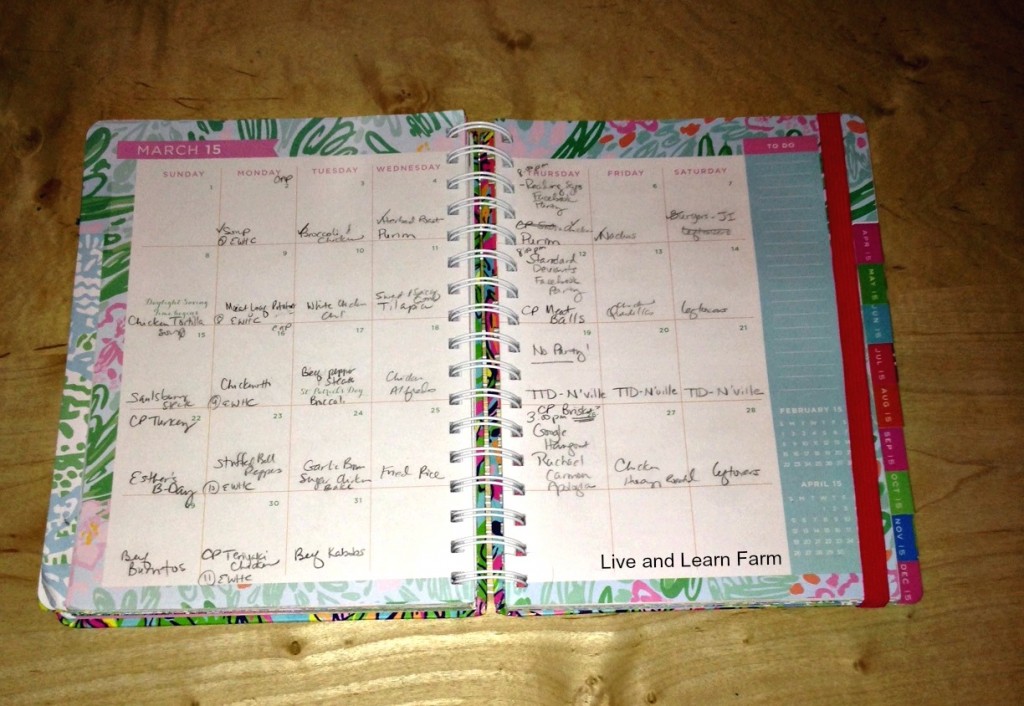 March 1. Homemade Potato Soup. I modified this one heavily, but I'll share the base recipe and you can adjust to fit your particular likes.
March 2. Leftover Potato Soup.
March 3. Broccoli & Chicken Stir Fry. We love this recipe. It is quick and easy. A win / win!
March 4. Creole Mustard and Garlic Crusted Roast Beef. This was our Purim meal. We are Messianic and celebrate feasts as Israel does… so this was a feast for us!
March 5. Crock Pot Salsa Chicken. This is from my favorite foodie… Conni over at Cosmopolitan Cornbread. She is our Foodie at Hip Homeschool Moms!
March 6. Nachos Grande.  Remember this is one we would split with Venison. My kids love it. I also use Lime Salsa instead of plain salsa.
March 7. Eat out. Yes, that is on the menu sometimes too 🙂
March 8. Chicken Tortilla Soup.  I sometimes use canned chicken (yep, I said it). And thanks to a visit from my partner in crime over at Hip Homeschool Moms, Leann, I now add about three cups of rice to this recipe. Sooo good.
March 9. Heinz Red Magic Meat Loaf. I actually snagged this recipe off a Heinz ketchup bottle 20 years ago and am still using the same recipe 🙂 I cook mine in two meat loaf pans instead of one. My boys like it less moist.
March 10. White Chicken Chili. This recipe is so easy. I use dried navy beans and cook them in the crock pot on high for 6 hours with two chicken bouillon cubes. Then I move it all to my soup pot. We use a lot of cumin and chili powder. More than the recipe calls for. I make this with my Quick Corn Bread recipe.
March 11. Sweet and Spicy Citrus Tilapia. Finding a recipe that all my boys like in the fish category is challenging (unless it is fresh flounder at the beach). But this one is always popular.  Note. I cut the red pepper in half. They rated it an 11 out of 10 🙂
March 12. Crock Pot Meat Balls. I don't use frozen meatballs… I make them. But this is the recipe I use.
March 13. Grilled Chicken Quesadillas. This is one of our absolute favorite recipes! We love cumin and cilantro!
March 14. Leftovers.
March 15. Salisbury Steak with Caramelized Onion Gravy. This is my middle son's favorite recipe. He asks us to cook this almost every week. It is a long, cumbersome recipe. But it is worth the effort (once a month 🙂 ) We double it so Gage can have left overs.
March 16. Chicken Spaghetti or Chickenetti. We don't do black olives so I don't use those, and I cook it in the oven for a bit longer (we like the cheese to be melted).
March 17. Saucy Pepper Steak. To save a little money on this one, I use green bell peppers instead of the other colors. They are much more expensive.
March 18. Grilled Chicken Light Alfredo Sauce. For the Grilled chicken, I just use butter and light garlic salt on chicken breasts. Either bake, fry or grill them. For the pasta, I use Bow Tie Pasta (my boys love it).
March 19 – 21st I'm out-of-town… so the family is fending for themselves. 🙂 I imagine there will be lots of boxed lasagna, homemade pizza and maybe some ramen noodles for lunch! Actually all of my boys can cook, they may eat this… but they are capable of cooking more if they want it.
March 22. Crock pot Turkey. We tend to use our crock pot a lot. I usually thaw my turkey… for this one.  Another very easy meal.
March 23. Crock Pot Stuffed Bell Peppers. We have several different recipes we use for stuffed bell peppers… just to keep them from getting boring.
March 24. Garlic Brown Sugar Backed Chicken. This is one of my hubby's favorite recipes and it is one of the easiest you will ever cook. I usually cook garlic, lemon pepper chicken for the boys because they are not huge fans of this recipe.
March 25. Chicken Fried Rice. This one I'll just have to get the recipe for you. I have modified the Beni Hana's recipe so much… but here is a different recipe until I get mine posted.
March 26. Taco Pizza. We haven't made Taco pizzas in a while. Will pull this recipe off the shelf and try it again.
March 27.  Honey Sesame Chicken. I guess you see we have a thing for Mexican and Asian dishes!
March 28. Leftovers.
March 29. Beef Burritos. This website was down when I went to pin this… if it is not back up soon, I'll post the recipe on my site with credits to them. It is the best burritos recipe ever. Another 10 out of 10 from my family on this one!
March 30. We always attempt to try something new each month. Here is this month's new recipe. Crock Pot Teriyaki Chicken. If you make it before I do, let me know what you think.
March 31. Beef kabob. This is actually one we love to fix. It is from Eating our Way around the world Geography study.
So, did I inspire you? I sure hope so! I'll get my April Menu plan up sometime in late March.
What are some of your favorite recipes that I should be testing?  
Related articles across the web
The following two tabs change content below.
Trish has been married to her best friend, David, for 16 years and they have three sons (aged 13, 12 and 9). Trish is from the coast of North Carolina, but they now live in rural West Tennessee on a 40+ acre farm. She has been homeschooling since 2009 and her homeschool style leans towards a Montessori approach with a heavy emphasis on hands-on learning. They also own a small business that Trish runs from home. Trish's family is Messianic and they love studying the Scriptures, learning Hebrew and growing in their faith and walk daily. In her spare time, Trish loves to write, work in their garden and can regularly be found trying to learn something new, modeling that learning is indeed a life-long endeavor!
Latest posts by Trish Corlew (see all)