I started the Trim Healthy Mama way of eating a few weeks ago and have already lost about 6 pounds. I have not done it perfectly… but I have found one of the most amazing aspects of this diet. I rarely have left-overs. Why is that important? Well, I have three boys (two teenagers and a tween) and a hubby who all love my cooking. So, I was worried that I would have to cook two different meals each night!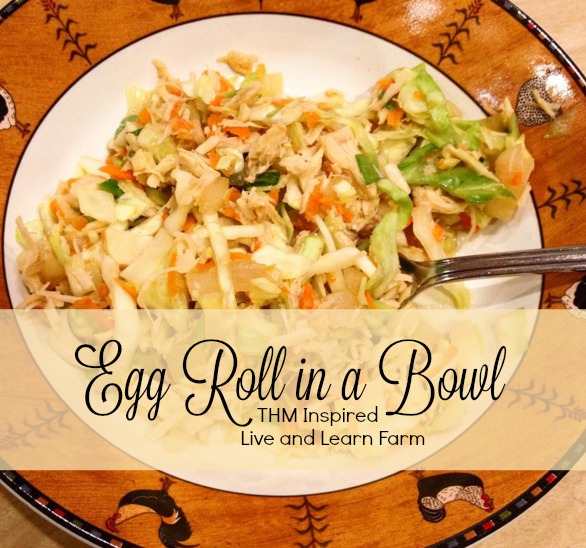 That is SO not the case! Honestly, they love the meals as much as I do. I still cook them carbs and they can have their sweet tea. But I can't tell you how surprised I have been at how much they are loving these recipes! That helps me stay on plan! Such a blessing.
This recipe is another one that they loved. They gave it a 9.5 on a 10 point scale! So, I wanted to share the recipe with you!  I modified it in several places, but this is inspired by the THM New Cookbook.
What You Need:
1 2lb shredded chicken
1 head of cabbage
1 cup carrots
1 large onion, chopped
6 cloves garlic, minced
2 tsp ground ginger
2 Tbsp Braggs Amino
1/4 cup of low sodium Soy Sauce
1-2 tsp rice vinegar
Black Pepper
Red Pepper flakes
1/2 cup of chicken broth
2 tsps Sesame Seed oil
Directions:
Cook the chicken until done and remove from pan.
Add onions and garlic to the pan and saute in Sesame Seed Oil until nearly cooked through.
Combine the Braggs amino acids, Soy Sauce, rice vinegar, chicken broth and Ginger and add to the skillet
Add red pepper flakes to taste.
Immediately add the Cabbage and Carrots to the skillet – half at a time.
Continue to cook about 15 minutes, then mix in cooked chicken.
Allow to simmer for 5-10 minutes.
Now the downside to the family loving THM recipes is… I have none leftover for lunch the next day! But what a blessing to have this worry!!