As many of you know, we are in the process of remodeling our home and getting it ready to put on the market. Ironically part of the remodeling process is also decorating to create that "curb appeal". Unfortunately, our budget will not allow much allocated to that expense, so we are learning how to decorate on a dime. I will be writing some articles to show you some of the frugal decorating ideas we are trying. I hope they inspire you try some too!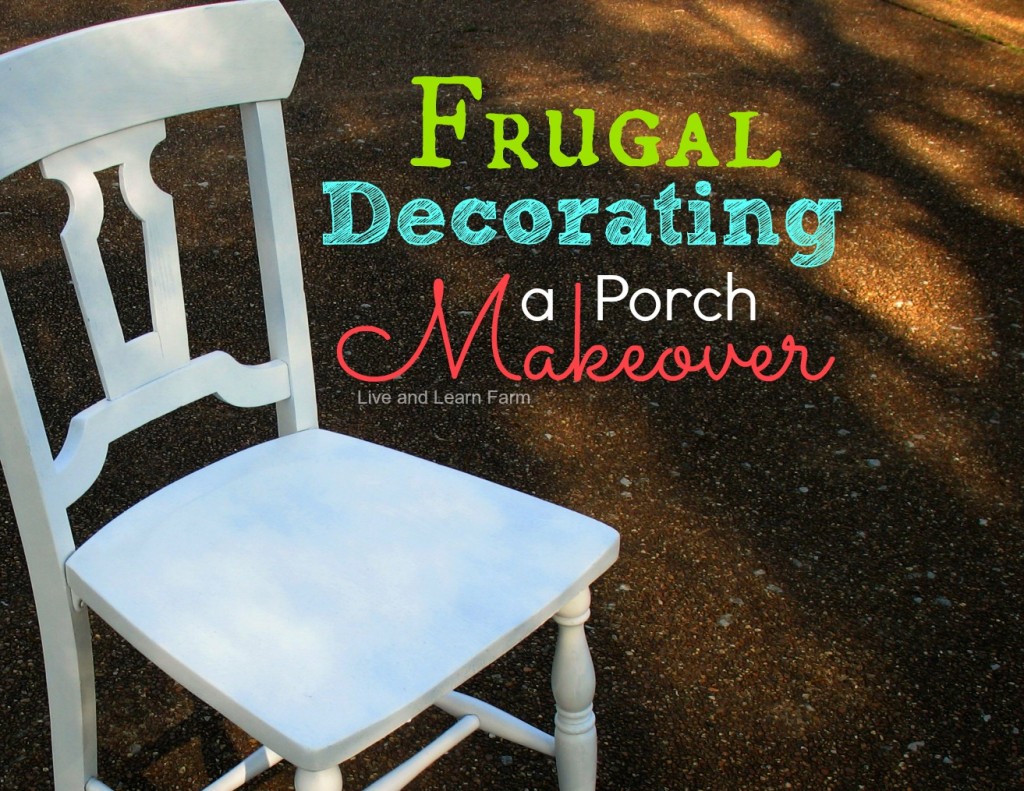 Last year we started fixing up and painting our house. It has been a huge endeavor, but we really didn't have much of a choice when the lowest quote was $10,000! So, we have all been learning some serious life skills with that project. Here you can see how much we have had to do…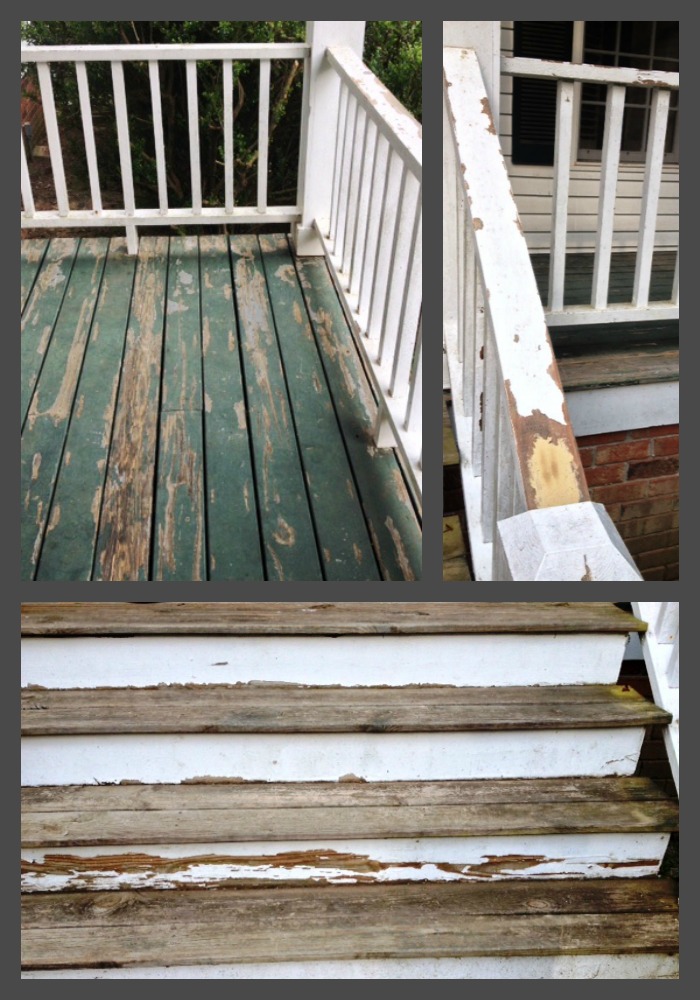 Here is the next stage of the porch. It is not complete, but we are making a lot of progress!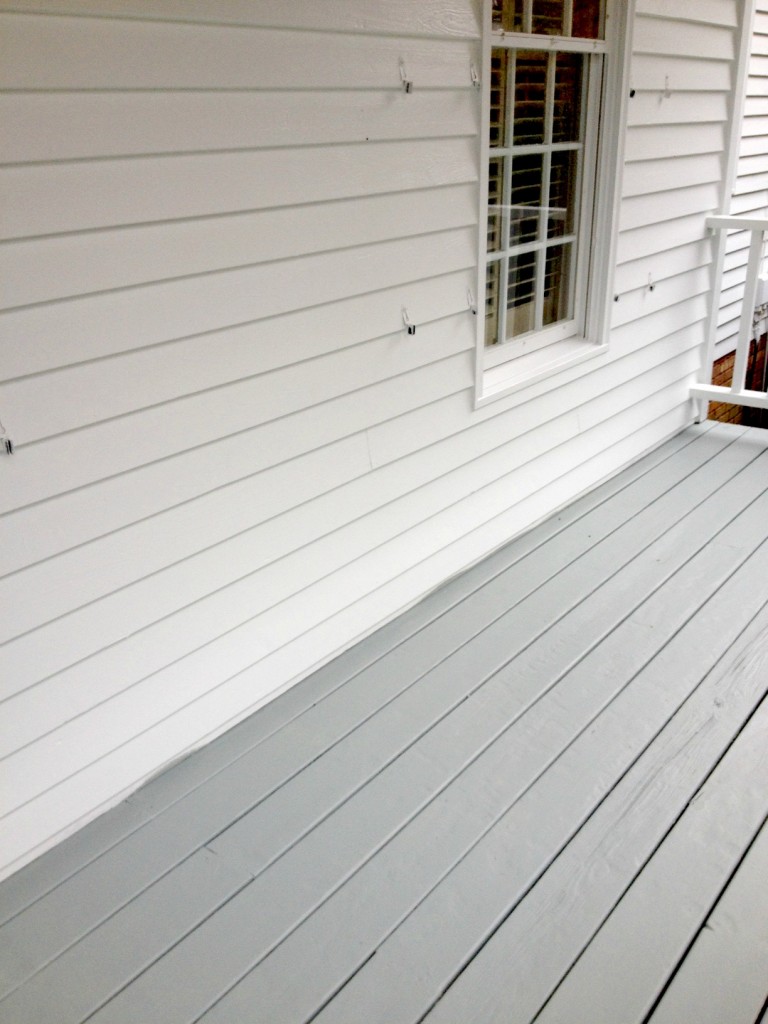 We are really glad we went back to the gray. The green was just too darn hot on your feet and it showed every little nick in the paint (Not that those were little nicks, of course 😉 )
Last year we were gifted with a couple of old wood chairs at a yard sale. They were pretty rough looking. But structurally they seemed fine. So we took them and put them in the barn.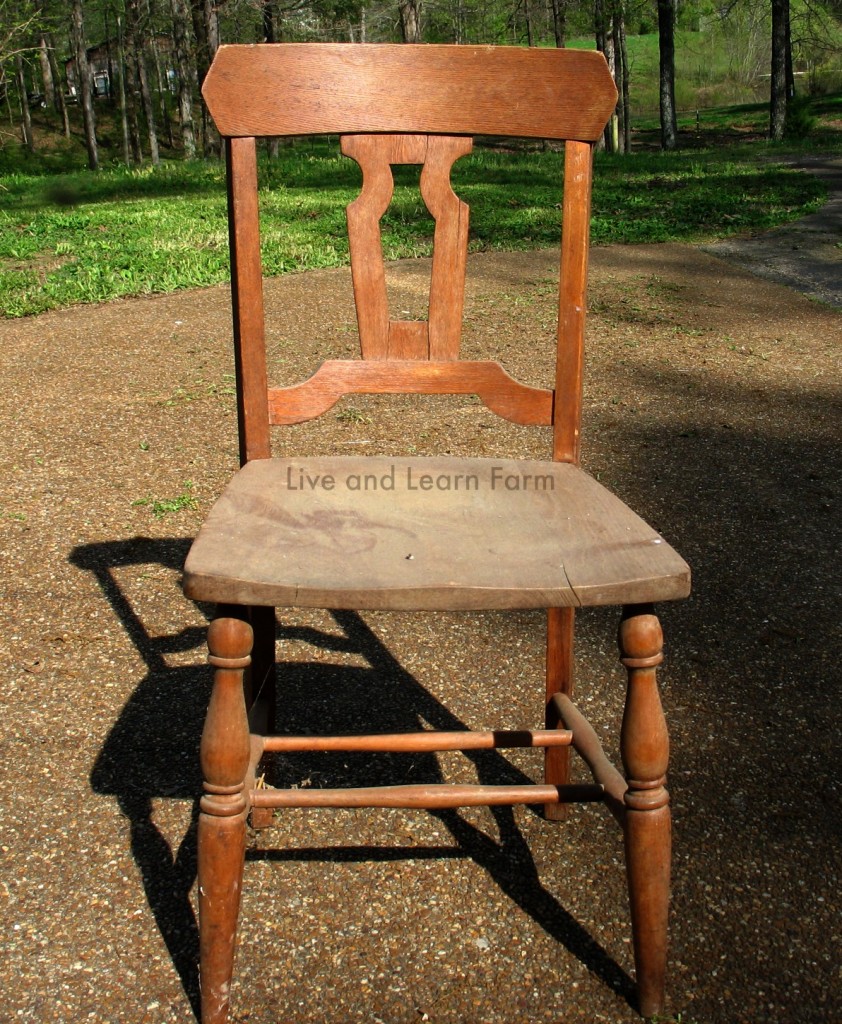 This year, as I was starting to update the porch and paint the swing and tables, I remembered the chairs in the barn and decided to try my hand at spray painting and "antiquing" them.
I used Rust-oleum American Accent Satin finish spray paint. I have heard how easy it is to do … so I really wanted to try it! It took two cans of paint to coat the chair pretty well (about $20). Here is the painted chair.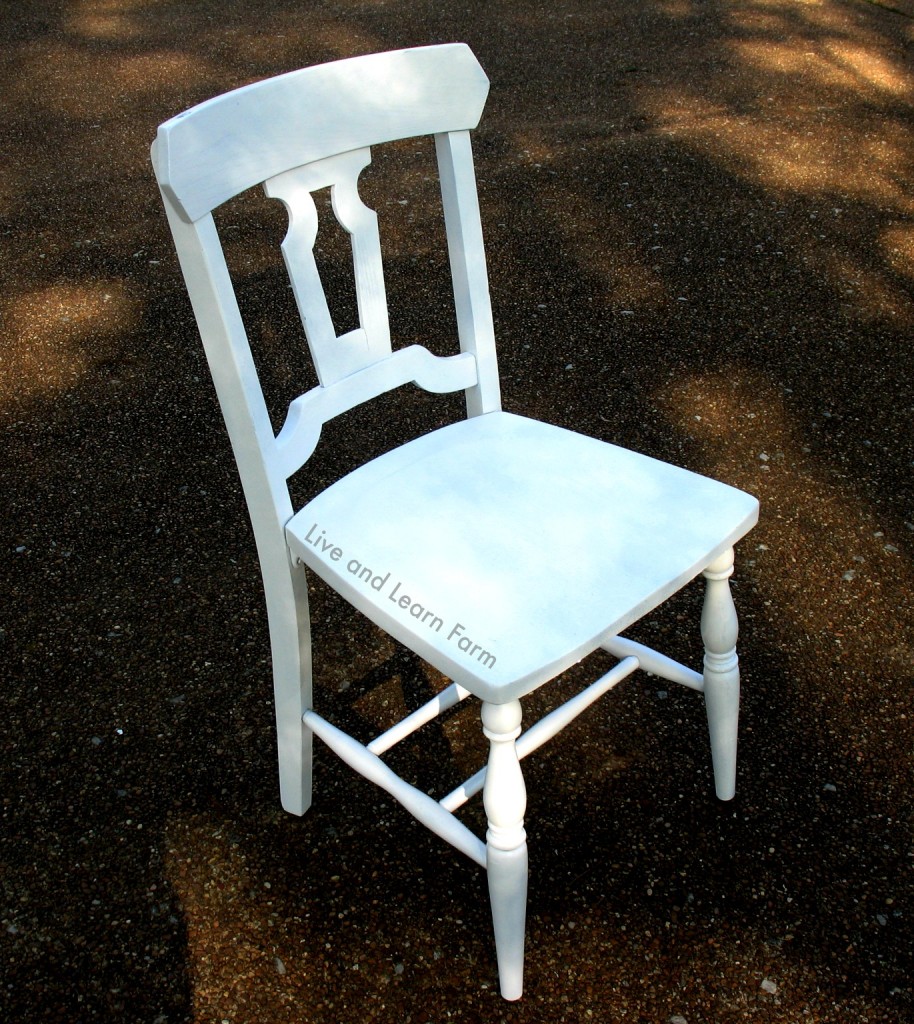 After that, I took some fine grit sandpaper to it and spent just about 10 minutes roughing up the areas that made sense to me. The places where you would hold it, sit on it, put your feet on it, bump it, etc.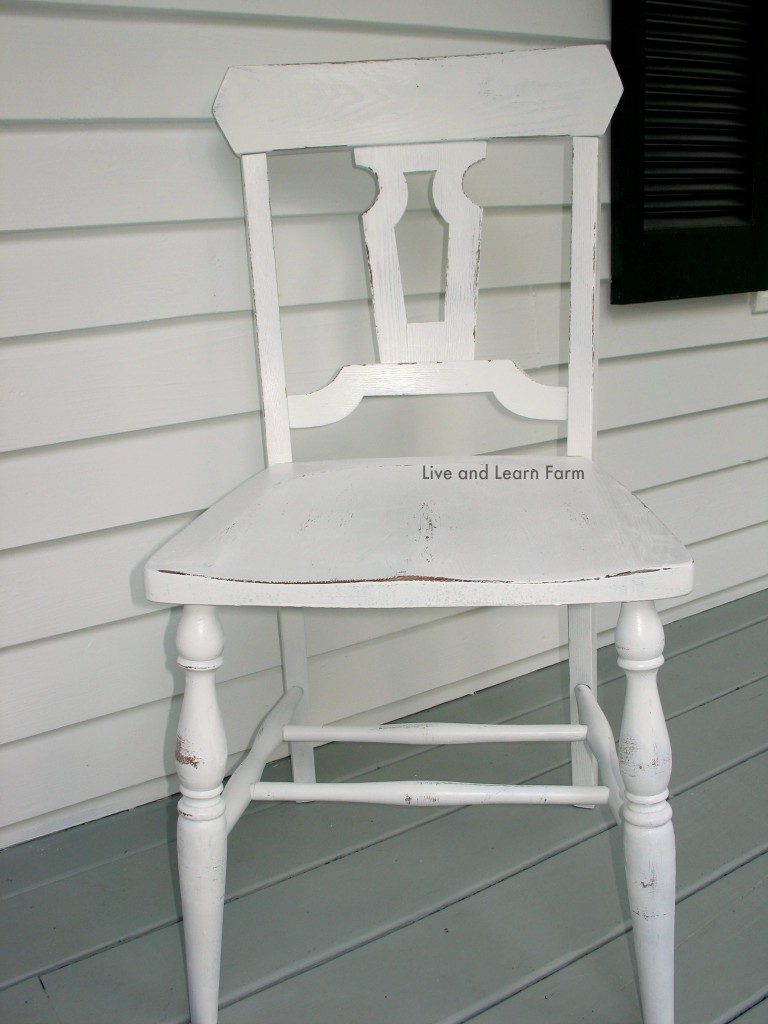 Then throw in a pillow I got from Wal-Mart on clearance and you have the final look.  Our house is white with green shutters and roof. We have a white PVC fence along the front of the house. So it just feels like it needs some color.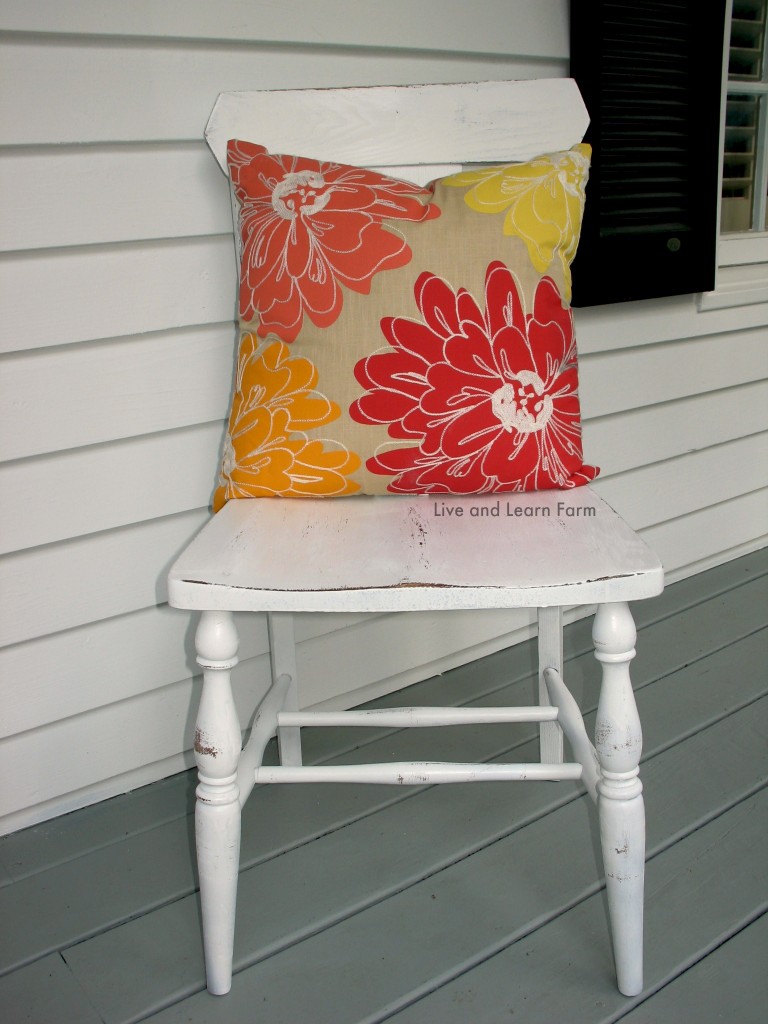 I still have one more chair to do and a table to go in the middle. But I think it turned out pretty good for my first attempt!  Speaking of adding color, I'm contemplating painting the table the light coral color at the top left hand on the pillow. What do you think?  Do you like the direction I'm headed in?
I want to get one more thing after I get the table painted for this area of the front porch … it is an antique window to hang on the wall. I'm excited to be moving forward but not spending a fortune doing it!
Anybody have an antique window I can buy cheap? 😉
More frugal decorating ideas to come!