For today's post of Montessori Made Affordable December 31st edition, I went in search of Montessori deals and found another great one! I honestly really enjoy going out searching for deals for you guys. In the process of doing this search, I am going to stumble upon lots of free items to add to our ever-growing Free Montessori Materials list.  So, I'll be updating it more frequently as well!
Yesterday, I featured a Parts of the Turtle puzzle from Alison's Montessori.  It sold out before mid afternoon.  So, if you are interested in the deals I post, you probably need to consider them a short-lived deal! These really great deals will not last long once pointed out!  With that thought… here is today's deal.  It is for elementary students and is from Montessori Outlet this time.  If you are not familiar with Montessori Outlet, it has a great reputation in the Montessori Materials market.  Today's deal is a WHOPPING 85% off!!!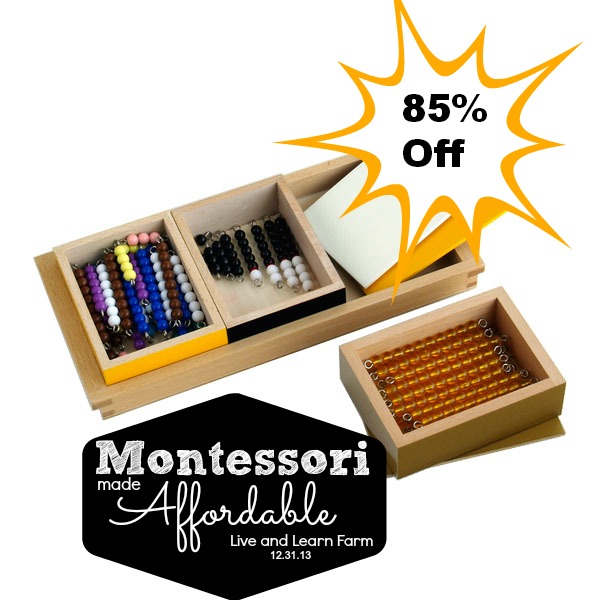 This is called a Multiplication Snake Game.  This material is usually introduced to the lower elementary student well into their multiplication study.
If you are enjoying this post and want to see more, please sign up for our newsletter, join us on Facebook and Google+, follow us on Twitter and Pinterest or sign up on the right to follow our blog.
I have added a couple free resources below to help you learn how to present this material.
I hope these posts are a blessing to you and your homeschool.  If they are, please share and help us get the word out about our blog, our homeschool and our Montessori Made Affordable series.
Until next time….
The following two tabs change content below.
Trish has been married to her best friend, David, for 16 years and they have three sons (aged 13, 12 and 9). Trish is from the coast of North Carolina, but they now live in rural West Tennessee on a 40+ acre farm. She has been homeschooling since 2009 and her homeschool style leans towards a Montessori approach with a heavy emphasis on hands-on learning. They also own a small business that Trish runs from home. Trish's family is Messianic and they love studying the Scriptures, learning Hebrew and growing in their faith and walk daily. In her spare time, Trish loves to write, work in their garden and can regularly be found trying to learn something new, modeling that learning is indeed a life-long endeavor!
Latest posts by Trish Corlew (see all)