My boys are hands-on learners all the way! All of my boys attended a Montessori School for at least a couple of years before we started homeschooling. My oldest son was in the Montessori school for six years! And when we brought them home to homeschool, we continued with the Montessori education. As they have completed and grown out of their Montessori materials and have moved to more abstract thinking, we are moving into a more traditional education formula… but we still migrate towards the hands-on curriculum. That is what made me start the series Almost Montessori to begin with. We were finding all these materials that were not traditional Montessori works, but close and certainly kept with the Montessori educational philosophy. Which brings us to today's article: Almost Montessori – All About Spelling.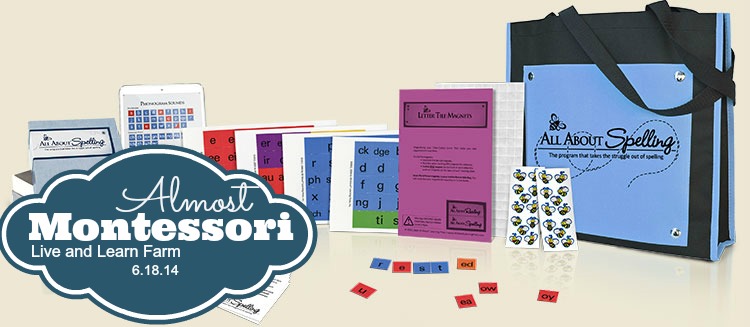 For students who learn to read phonetically, spelling seems to be a struggle, at least early on.  My boys read early and are voracious readers now. Spelling was a challenge… until we started using All About Spelling!  This pigeon-toed perfectly with my boys coming from a Montessori background!  The Montessori Method itself is a multi-sensory approach to learning. Children are encouraged to manipulate and explore the materials in the environment. In the same way, All About Spelling's letter tiles and Phonogram Sounds app provide multi-sensory (sight, sound and touch) learning tools so your child learns more quickly and retains what they learn.
Recently, they have even created another level of sensory learning… taste!  If you sign up for their free newsletter, you will receive a free cookbook! And anyone that has been in a Montessori classroom knows, we encourage our children to be involved in the preparation of food early on… so, from that aspect, even this cookbook is Montessori too 🙂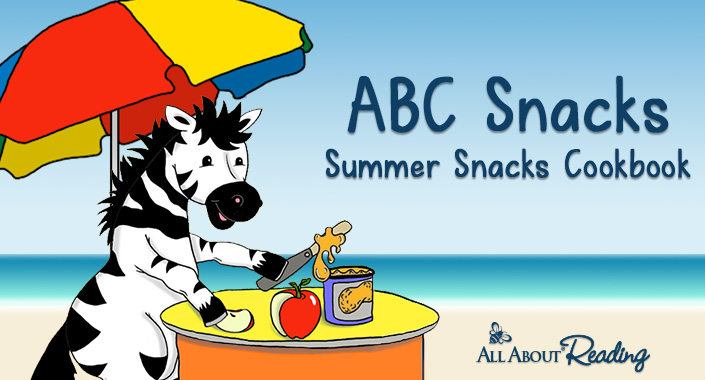 We started in the first book (even though my oldest was already in fourth grade). I'll explain why… I wanted him to hear the rules and the rule breakers that AAS covers. In the beginning, we used our movable alphabet instead of the magnetic tiles to help this work feel familiar.  So let me give you some more detailed information about All About Spelling and some of the reasons I chose to use this product for the Almost Montessori series.
It is a seven level program that teaches encoding skills, reliable spelling rules, via multi-sensory strategies to help your student become a proficient speller for life. This program has won so many awards, see for yourself!
These are some of the reasons I love AAS:
Multi-sensory approach makes it easy for kids to understand

Can easily use the movable alphabet instead of the magnetic letter tiles especially for the first book

Very quick lessons, most are less than 15 minutes

At the beginning of most lessons is a quick review providing a built-in review system which is part of the spiral approach

Just like Montessori, it is focused on mastery of the skill

 

Easy to teach because all lessons are already planned out!

It comes with Free LIFETIME Support!

Can be used with multiple children at one time

By Level 7, my boys will be spelling at the high school level.

It is VERY affordable!!!

Finally… they provide a ONE YEAR guarantee! They are that confident that their products work.
If you are enjoying this post and want to see more, please sign up for our newsletter, join us on Facebook and Google+, follow us on Twitter and Pinterest or sign up on the right to follow our blog.
I hope this series is a blessing to your homeschool and classroom!  Please share and pin these articles if they are beneficial!  It will help us get the word out about our blog and the Almost Montessori series!

The following two tabs change content below.
Trish has been married to her best friend, David, for 16 years and they have three sons (aged 13, 12 and 9). Trish is from the coast of North Carolina, but they now live in rural West Tennessee on a 40+ acre farm. She has been homeschooling since 2009 and her homeschool style leans towards a Montessori approach with a heavy emphasis on hands-on learning. They also own a small business that Trish runs from home. Trish's family is Messianic and they love studying the Scriptures, learning Hebrew and growing in their faith and walk daily. In her spare time, Trish loves to write, work in their garden and can regularly be found trying to learn something new, modeling that learning is indeed a life-long endeavor!
Latest posts by Trish Corlew (see all)