Montessori materials are expensive which makes many of the items out of reach for homeschoolers. Because I really believe in the Montessori method, I am starting a new feature for 2014 – Montessori Made Affordable.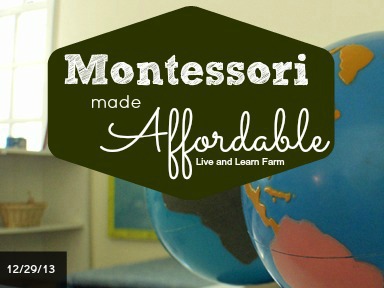 I am a huge fan of Alison's Montessori. Many, if not most, of our materials came from this Montessori online store.  I have had a couple of situations where items where not what I wanted or expected, and they corrected the issues, no questions asked.
Today, I found a great deal on the Short Bead Chain in Alison's bargain basement center… it is more than 50% off!
If you are enjoying this post and want to see more, please sign up for our newsletter, join us on Facebook and Google+, follow us on Twitter and Pinterest or sign up on the right to follow our blog.
Are you unsure how to use the short bead chain in your Montessori Classroom?  You need to visit Teaching from a Tackle Box… she has absolutely beautiful materials AND she shows you where to find the lessons as well.
Until next time, I'll leave you with a Montessori quote…
"The first essential for the child's development is concentration. The child who concentrates is immensely happy." ~Maria Montessori

The following two tabs change content below.
Trish has been married to her best friend, David, for 16 years and they have three sons (aged 13, 12 and 9). Trish is from the coast of North Carolina, but they now live in rural West Tennessee on a 40+ acre farm. She has been homeschooling since 2009 and her homeschool style leans towards a Montessori approach with a heavy emphasis on hands-on learning. They also own a small business that Trish runs from home. Trish's family is Messianic and they love studying the Scriptures, learning Hebrew and growing in their faith and walk daily. In her spare time, Trish loves to write, work in their garden and can regularly be found trying to learn something new, modeling that learning is indeed a life-long endeavor!
Latest posts by Trish Corlew (see all)