Tuesdays.  They are not my favorite days.  Not because of the day of the week, but because we are on the road for 40 minutes one way to our local homeschool co-op.  I love how much the boys are getting out of their art Class (Thanks Ms. Mary), but I just hate driving that far for one class.  This is our second year taking art classes and the boys' skills are improving dramatically. (Remember, I am determined they will not grow up to be an art vacuum like me, so we will soldier through.) However, this Tuesday was different. It was one of those days that remind me of why I love homeschooling.
This morning we worked on their Institute for Excellence in Writing, Student Writing Intensive A. it is really review, but is a great place to start before they leap into major history writing via Trisms.  Because it is review, success is almost guaranteed. We love those scenarios! After we finished IEW and lunch, we piled into the car for the drive to co-op.  Out of the corner of my eye, I catch a glimpse of the book my nine-year old has in hand. This book.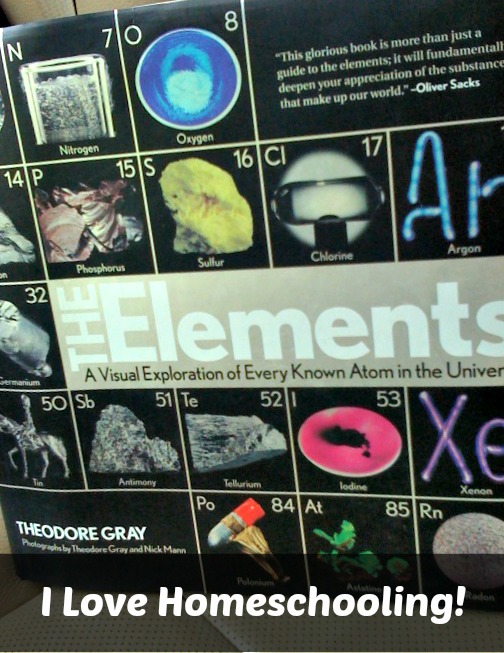 Blake brought it along for the boys to quiz each other about the elements… for FUN! Have I mentioned lately I LOVE HOMESCHOOLING! I'm sure over the course of writing I'll end up sharing the other 999,999,999 reasons along the way.  

Until next time!  

The following two tabs change content below.
Trish has been married to her best friend, David, for 16 years and they have three sons (aged 13, 12 and 9). Trish is from the coast of North Carolina, but they now live in rural West Tennessee on a 40+ acre farm. She has been homeschooling since 2009 and her homeschool style leans towards a Montessori approach with a heavy emphasis on hands-on learning. They also own a small business that Trish runs from home. Trish's family is Messianic and they love studying the Scriptures, learning Hebrew and growing in their faith and walk daily. In her spare time, Trish loves to write, work in their garden and can regularly be found trying to learn something new, modeling that learning is indeed a life-long endeavor!
Latest posts by Trish Corlew (see all)