Today I am presenting another product that follows the Montessori foundation and pedagogy of teaching, but is not a traditional Montessori Work… I'm going to be calling this series "Almost Montessori" so be watching for these posts! This is another way to make Montessori more affordable to homeschoolers. Today's items that is in the "Almost Montessori" category is: Almost Montessori Movable Alphabet.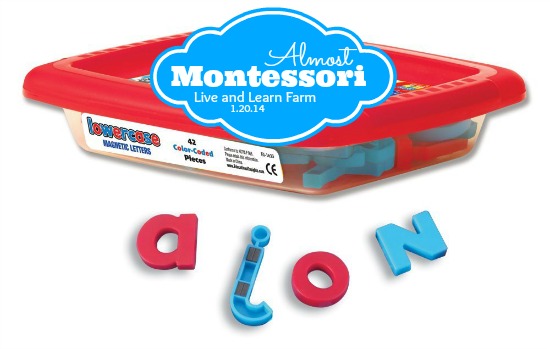 These new magnetic letters are color coded as well, showing which letters are consonants and which are vowels. For some children, having the letters stay in place is a huge deal for them. Using these on a small magnetic white board would be a huge relief for them. For many of my friends, they have to homeschool on the go! Taking a traditional Montessori movable alphabet would be out of the question. The Educational Insights Magnetic Color Coded alphabet fits a great niche and are very cost effective at $9.99 and free shipping if you have a prime membership at Amazon. (If you don't, you might want to consider it. If you click the picture below, you can try it for 30 days free!
Join Amazon Prime – Watch Over 40,000 Movies & TV Shows Anytime – Start Free Trial

Purpose of the Movable Alphabet
– To help children with the analysis and exploration of language which is known to him and to reproduce words with graphic symbols.
– Preparation for writing and reading.
I have listed some free lessons below on how to present and use the Movable alphabet.
Montessori Mom does a great job of not only telling you how to present the lesson, but also of giving you three letter words to start with.
If you are enjoying this post and want to see more, please sign up for our newsletter, join us on Facebook and Google+, follow us on Twitter and Pinterest or sign up on the right to follow our blog.
Montessori Primary Guide has a great lesson plan with exercises.
If you need a free Montesssori language album for ages 3-6 to understand the scope and sequence (when and where to present language materials), Montessori Teacher's Collective has a great one.
If you are like me and want to SEE it, here is a video for you 🙂
This is the perfect time to pull out the Bob Books and other rhyming early reading books as well as introduce poetry. I have provided a collection of the ones we loved below with a few fun games thrown in:
I hope these will be a blessing to your homeschool! Please share and pin these articles if they are beneficial to help us get the word out about our blog and series!

The following two tabs change content below.
Trish has been married to her best friend, David, for 16 years and they have three sons (aged 13, 12 and 9). Trish is from the coast of North Carolina, but they now live in rural West Tennessee on a 40+ acre farm. She has been homeschooling since 2009 and her homeschool style leans towards a Montessori approach with a heavy emphasis on hands-on learning. They also own a small business that Trish runs from home. Trish's family is Messianic and they love studying the Scriptures, learning Hebrew and growing in their faith and walk daily. In her spare time, Trish loves to write, work in their garden and can regularly be found trying to learn something new, modeling that learning is indeed a life-long endeavor!
Latest posts by Trish Corlew (see all)