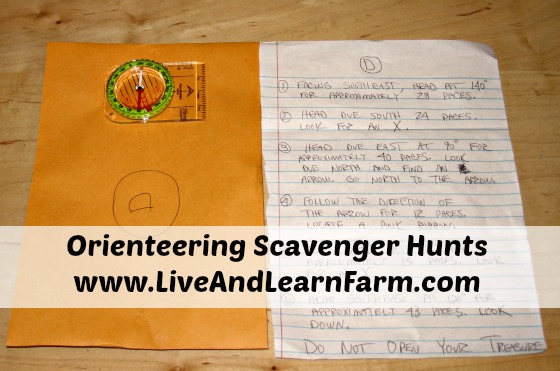 This past weekend was Father's Day and my middle son, Gage's birthday.  What did we do?  We all learned how to use a compass! How? By Orienteering Scavenger Hunts using a map and compass. As you probably have already read, in our Paths of Exploration Columbus Unit: Lesson 1, Part 1 study, we learned about the compass. We did all the worksheets for the compass in our POE student notebook, we printed out a great compass work from Montessori Print Shop. We even made  our own compass… but we didn't learn how to use one, especially when using bearings and degrees.  That's where orienteering comes into play. On Father's Day, my hubby David was busy setting up a scavenger hunt for the boys and their best friend, Austin!  Each received their own packet, which contained, a compass and directions to find a treasure at the end of their individual courses. 
We started inside with a quick lesson on how to use a compass.  I found some great instructions here and here.  But, that inside lesson was not as effective as we thought it would be.    
Once outside, they each opened their packets and read through their direction. After studying their packet a minute or two, they all decided they needed another lesson that was practical instead of theoretical … good thing that is our educational philosophy. In our homeschool and on our farm, it's all about hands-on learning, we learn it while doing it!
Chase was the first to finish!  They all loved this project and each found their treasure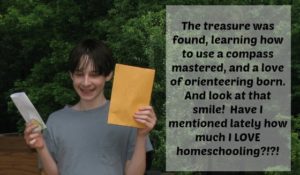 successfully. More importantly, they loved learning how to use a compass and hunting for an object … see the smile on Chase's face! For those curious, here is the compass we got for each of the boys.  They were not expensive and Silva is highly regarded in the orienteering world.  They all worked well and were easy to use and read.  
This was their treasure they found at the end of their scavenger hunt.  You don't know what mini-figure you are getting and could find a Mr. Gold in their packet. (No Mr. Golds were in these though.)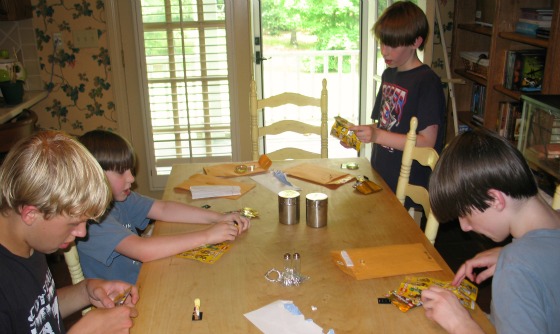 Did you know Orienteering is considered a competitive sport? Here is a link to one of the Orienteering sites to teach you more about this fun sport. There are many orienteering teams around the US too, but unfortunately, none in TN or MS.  Here is a link to see if they have one in your area.  If you decide to do this with your children, please post a link to your post below!  The boys LOVED the scavenger hunt and my hubby loved setting up the course!  We will be doing this again and soon!  Here are a few more pictures of the boys in action:  
One final note, we learned today that one of the authors of Paths of Exploration, Debbie Strayer passed away over the weekend.  Our thoughts and prayers are with her family and the good folks at Geography Matters!!! 
Until Next Time…
The following two tabs change content below.
Trish has been married to her best friend, David, for 16 years and they have three sons (aged 13, 12 and 9). Trish is from the coast of North Carolina, but they now live in rural West Tennessee on a 40+ acre farm. She has been homeschooling since 2009 and her homeschool style leans towards a Montessori approach with a heavy emphasis on hands-on learning. They also own a small business that Trish runs from home. Trish's family is Messianic and they love studying the Scriptures, learning Hebrew and growing in their faith and walk daily. In her spare time, Trish loves to write, work in their garden and can regularly be found trying to learn something new, modeling that learning is indeed a life-long endeavor!
Latest posts by Trish Corlew (see all)