Can you imagine how fabulous (and pungent) it would be to walk into a spice tent?  As you know, we are hands-on (Montessori-ish) Homeschoolers, so we decided to create a "Name that Spice Game" to experience that blend of spices smell on a small scale. In Lesson 1, Part 2 of our Paths of Exploration Columbus Unit, we studied about ancient open-air bazaars, such as the ones you might find in Middle Eastern countries today.  Explorers liked to bring home spices from bazaars to sell in their own countries.  
This game is a spin-off of a Montessori work, Scent Jars. If you have younger students that have not used this activity, I highly recommend using it with this lesson first.  Remember, all Montessori works are teaching a life-principle or concept that is much deeper than the obvious work itself.  For example, for the smelling jars, your child is not just being taught how to be able to identify a specific spice smell, the lesson's goal is to help your child become aware of scents in their environment.  Another reason younger students should do the traditional work can be found in the WARNING at the bottom of this article.  
Over the last several years, we have studied why our olfactory system (our sense of smell) is important to us in our various Apologia Textbooks: Human Anatomy and Physiology, an elementary study and human anatomy is the entire second half of General Science, the first middle school science book.  The sense of smell is a way for us to gather messages about the environment around us. So, literally, with each breath we take, we are sampling our environment for smells that would indicate various dangers, food, or other individuals, etc.  
Since my boys are older and have already had the luxury of using the Montessori primary curriculum (including the smelling jars), we made an extension for our purposes.  Here is a list of spices you can use, the spices that are in bold type are the ones we used.    
Allspice

Basil

Bay Leaf

Black Pepper

Cayenne pepper

Celery Seed

Chili Powder

Chives

Cilantro

Cinnamon

Clove

Garlic

Ginger

Lavender

Mustard Seed

Nutmeg

Oregano

Paprika

Parsley

Peppermint

Poppy seed

Rosemary

Sage

Spearmint

Thyme
Materials:
12 Spices
Party Cups (Read the Warning at the bottom of the post)
Tray
Notebook paper
Pencil
Stickie Notes 
Directions:
1.  Choose 12 different spices.  
2.  On the bottom of each cup, prior to pouring in the spice, number the cups 1-12, with a sharpie.  
3.  Pour a small amount of spice into one cup.  Place a stickie note on the spice jar with the number that corresponds to number on the bottom of the cup that contains that spice.  
4.  Share one cup at a time and request that your children use their hand to wave the smell toward their nose.  It is called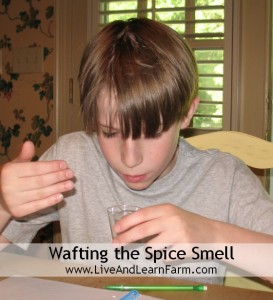 wafting and here is a demonstration.  You will see why you should not put your nose over the cup and sniff when you read the warning at the bottom of this article.  
5.  Have your children number their paper 1-12.  As they finish exploring each spice, ask them to write the name of the spice they think each smell is.  I did not blindfold my boys, but this would narrow the senses being tested down to just their sense of smell (and, in the process, protect those eyes)!  Since I did not blindfold, my boys could see the color, texture, and features of each spice, which did make it a little easier)!
6.  Once your children have explored all 12 spice scents, reveal what each spice is, starting with #1.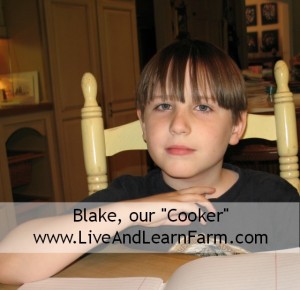 I was a little bit surprised with the results.  Blake loves to cook and is in the kitchen with me cooking most meals.  So, I expected him to do extremely well (and he did, 10 out of 12 he got right).  But Gage came in a close second and he rarely cooks. However, Gage has always seemed to have heightened senses, so maybe this was just further confirmation of that theory.  Chase was a distant third!  He needs more time in the kitchen cooking, apparently!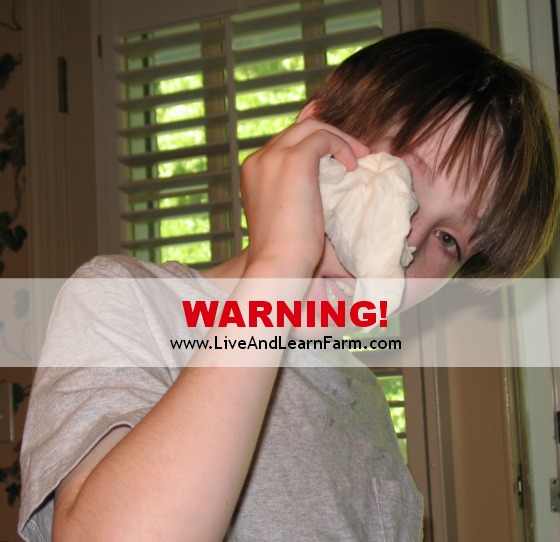 WARNING!!  When dealing with anything you are smelling, there is always a chance of getting too strong a whiff or getting it in your eyes. Therefore, I've always been taught and taught my boys that to smell an unknown item, you should do so by waving their hand over the item to draw the scent to you (wafting). Well, even with this lesson firmly established and us using this practice throughout this project, Gage, my 12 year old son, on the next to the last spice, got that spice in his eyes, not once but TWICE.  Gage decided he couldn't smell the spice with just the light scent his hand was able to direct toward his face, so he put his nose over the cup of spice.  Well, he breathed into the cup accidentally and the Ground Clove flew right into his eyes. I'm still thanking our Father in Heaven it was only Clove… it could have been MUCH worse. So, if you have young children I recommend NOT using open cups with spices.  
See why we named the blog (and our farm) "Live and Learn" Farm? We are always learning…. sometimes, the hard way!  I'm not sure who learned this lesson more, me or Gage!  
Until Next time…
The following two tabs change content below.
Trish has been married to her best friend, David, for 16 years and they have three sons (aged 13, 12 and 9). Trish is from the coast of North Carolina, but they now live in rural West Tennessee on a 40+ acre farm. She has been homeschooling since 2009 and her homeschool style leans towards a Montessori approach with a heavy emphasis on hands-on learning. They also own a small business that Trish runs from home. Trish's family is Messianic and they love studying the Scriptures, learning Hebrew and growing in their faith and walk daily. In her spare time, Trish loves to write, work in their garden and can regularly be found trying to learn something new, modeling that learning is indeed a life-long endeavor!
Latest posts by Trish Corlew (see all)