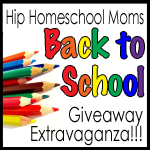 If you have not visited Hip Homeschool Moms now is the time to do it! There are over $15,000 worth of giveaways going on this week! Tomorrow (August 17th) is the last day to register for some of them, so be sure to head on over there. On this link, you will find all five days listed. Each day, there are different sponsors and different donations. So don't miss out on any! The amazing sponsors are listed below:
A Journey Through Learning
Academia Celestia
All About Spelling / Reading
Apologia
Arithmetic Village
ArtAchieve
ArtKive
Backyardcity.com
BeeYoutiful (makeup, skin care, etc.)
Bella the Bear
Bible Study Guide
Brave Writer
Bright Ideas Press
Camp StarBRIGHT
Classical Academic Press
Classical Historian
Classical Writing
CM Live
Compass Cinema
CurrClick
Desiree Alonso Aprons
Diana Waring Presents
Discount Homeschool Curriculum
Dish Dish
Edmund Scientific
Educational Insights / Learning Resources
eduCents
Enchanted Homeschooling Mom
Geography Matters
Girls of American History
Great HomeSchool Conventions
Heritage History
Home Art Studio
Home Learning Institute
Home School Adventure Co.
Homeschool in the Woods
Inspired. Simply.
Institute for Excellence in Writing
JessicaSprague.com
Kathryn Dahlstrom
Kidzmet
Knowledge Box Central
Knowledge Quest
Learn with Math Games
Lee Woods
Lilla Rose (hair accessories)
Maestro Classics
Magical Mouse Schoolhouse
Manchester Wood American Made
Martha Stewart Living
Maths on Screen
Math-U-See
Media Angels Inc Publishing
Memoria Press
Montessori Services
My Mardel Homeschool
New American Cursive
New Leaf Press
Penguin Books
Pick and Draw Game
Professor Carol
Pumpkin Seed Press
Raising CEO Kids
Raising Real Men
RedWagon Tutorials
Sarah and David Interactive – Learning Hebrew is Fun
Sarah's Silks
Scaredy Cat Reading
SchoolhouseTeachers.com
See the Light
Sneakin' in Science
Spanish Clicks
Stage on Screen
Study Solutions
Textbooks Heaven
The 101 Series
The Critical Thinking Company
The Kid Garden
The WonderMill Company
Touch Math
Tucker-Jones House, Inc
Veritas Press
We Choose Virtues
Young Living Essential Oils