Hey Montessorians!  Today I found another lower elementary work you.  It is Montessori Made Affordable Division Material.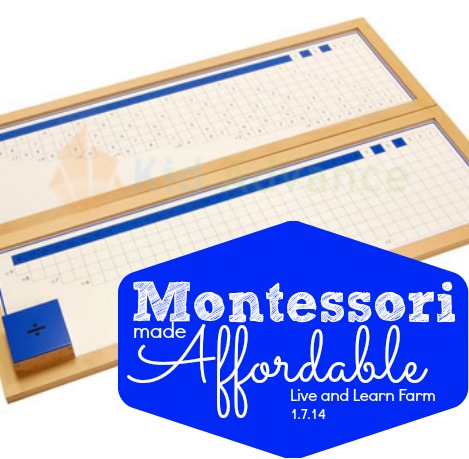 The Division Finger Charts are used to:
Learn the division facts. 

Gradually transfer from concrete to abstract representation of division. 

Learn more about remainders. 

Develop concentration and independence. 

Develop a sense of accuracy.

preparation for finding the Highest Common Factor and the Lowest Common Multiple. 
I found this work at KidAdvance for 57% off!  I checked on Amazon, because KidAdvance sells there as well to see if the item was cheaper and it was actually more expensive.
I am not a "deal blogger".  I am a Montessori homeschooling mom that has seen the fruit of a Montessori foundation and am just trying to help homeschoolers implement Montessori concepts economically.  But I also provide links to the lessons so you can see how to use the deals I'm finding.  Below are lessons and video from a few resources to help you understand when and how to use these Division materials.
If you are enjoying this post and want to see more, please sign up for our newsletter, join us on Facebook and Google+, follow us on Twitter and Pinterest or sign up on the right to follow our blog.
Montessori Math Album with age, aims and prerequisites.
Presentation from Montessori Album.  Shu-Chen Albums… so of the best free albums on the internet.
Moteaco.com Math Albums with Extensions.  An Excellent resource!
Video of the Presentation from Montessori Live.
I hope these posts are a blessing to you and your homeschool.  If they are, please share and help us get the word out about our blog, our homeschool and our Montessori Made Affordable series.  Also be sure to look around our blog some.  I am a Montessori homeschooler that is now using the Montessori philosophy to teach my middle and high school students.  They are blogging on this site as part of their creative writing curriculum.  Actually, this entire blog itself is a part of their education.  You can read the details here.
I sincerely hope you will join us for our farmschooling adventures and be a part of our community.

The following two tabs change content below.
Trish has been married to her best friend, David, for 16 years and they have three sons (aged 13, 12 and 9). Trish is from the coast of North Carolina, but they now live in rural West Tennessee on a 40+ acre farm. She has been homeschooling since 2009 and her homeschool style leans towards a Montessori approach with a heavy emphasis on hands-on learning. They also own a small business that Trish runs from home. Trish's family is Messianic and they love studying the Scriptures, learning Hebrew and growing in their faith and walk daily. In her spare time, Trish loves to write, work in their garden and can regularly be found trying to learn something new, modeling that learning is indeed a life-long endeavor!
Latest posts by Trish Corlew (see all)