So, as I was saying, Pinterest has become my new muse!  Up until now, I have never had time to investigate my creative side and to determine what my talent might be.  And it has been a gap in my life, my whole life… I was an "art vacuum", if you will.  Completely devoid of any identified artistic gift.  I am the fifth of five children.  All of my siblings have talent, and they have not only identified their talent(s) but they apply their talents to help them escape the "busyness" of their chaotic lifestyles. Or, these gifts have become their careers.  Over the years I have jokingly explained that all the talent was distributed in the family gene pool by the time I came along… masking the blatant artistic gap with humor.  So, needless to say, as a mom, I have been determined that my children will not suffer this same artistic void!  Ironically, in my quest to offer them creative outlets, I am starting to find my own gifts.  And… through this process, I'm starting to realize the goal is not to find the one artistic talent I have, but in exploring all the possibilities.   
With that being said, I must admit, I'm not terribly creative yet!  In our homeschool we study artists.  We study not just their art, but their life.  We search for what inspired them, what experiences in life shaped them, and other topics such as, did they have a muse (a person, place or thing that inspired them). To assist in our research of the various artists, I created a research guide that you can download here: Artist Research Worksheet.  (Note this is for upper elementary or higher level research).  For a research form for younger students, HomeschoolWithIndexCards.com has created a great free artist biography form.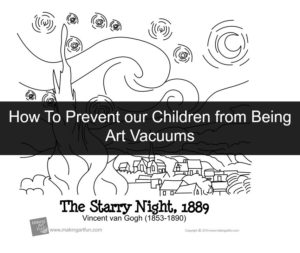 One of the ways we get to know an artist is by exploring the artist's chosen medium(s) and attempt to recreate one of their art works.  For this post, I'll show our Starry Night and Van Gogh project.  It all started with this coloring page from MakingArtFun.com.  I found it on Pinterest and pinned it, not knowing exactly how we would use it in our homeschool.   (Have I mentioned that Pinterest is my new muse? LOL)  Months later, we were discussing Van Gogh and pulled out this coloring sheet.  Even though it was a stretch, we decided to paint Starry Nights!  And for an artistically challenged person such as myself, that was a stretch indeed!  I loved being able to use this coloring page to help me see the transitional points in the painting.  It really helped me paint this artwork!  So, if you haven't tried this yet with your children, I highly recommend it!!  
We then needed to see the painting, in color, preferably large enough to study it.  One of the many sites I found was the VanGoghGallery.  It gave a beautiful vivid picture of Starry Nights, but it also gave some details about the painting, what was happening in Van Gogh's life when he painted it, etc.  Another great site is ArtCyclopedia.
Once we felt comfortable, we spread out our materials on the kitchen table and started painting.  Here are the results of our study: 
And, my painting…  
I hope we have inspired you to just start exploring the possibilities in order to avoid being Art Vacuums!  
Until Next Time…
The following two tabs change content below.
Trish has been married to her best friend, David, for 16 years and they have three sons (aged 13, 12 and 9). Trish is from the coast of North Carolina, but they now live in rural West Tennessee on a 40+ acre farm. She has been homeschooling since 2009 and her homeschool style leans towards a Montessori approach with a heavy emphasis on hands-on learning. They also own a small business that Trish runs from home. Trish's family is Messianic and they love studying the Scriptures, learning Hebrew and growing in their faith and walk daily. In her spare time, Trish loves to write, work in their garden and can regularly be found trying to learn something new, modeling that learning is indeed a life-long endeavor!
Latest posts by Trish Corlew (see all)