It's time to count birds in our backyards again!! We had so much fun doing this count while studying Apologia Exploring Creation Zoology 1 Flying Creatures, I figure we will make this an annual event. The birdcount starts Friday, February 15th! So you only have a little while left to get organized and everything printed! This year we are adding a few things to help with our bird identification.
If you live in TN here is a link to the most common birds you will probably see in your backyard. She has created cards to print and study. So Montessori!  http://jimmiescollage.com/2011/02/more-bird-resources-for-backyard-bird-count/
We will also be using the Bird Observation sheet from The Notebooking Fairy. I LOVE these notebooking pages and have used various ones from this site. Check out all the free ones!  http://notebookingfairy.com/2011/11/bird-observation-notebooking-page/
We have been meaning to do this and just have not gotten around to creating nature journals yet. I am hoping we will make these this summer! But for those that have progressed to that point, here is a great bird feeder journal page:  http://www.arps.org/users/ms/pricen/Science7/biology/Ecology/nfj/birdfder.pdf
We are going to make some homemade bird seed ornaments and suet to hang out. You can find recipes for both here:   http://handsonaswegrow.com/homemade-heart-bird-feeder/# and http://www.artistic-garden.com/easy-homemade-bird-suet-recipe/
After you complete the bird count, create a graph or a pie chart with your children to show visually which birds are the most common and which are least common. Here is one I found online that is very simple, but easy to understand.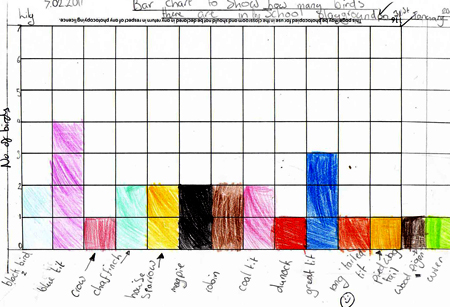 I hope you will get involved in the great backyard bird count! It is a fun and easy way to encourage our children to slow down, look around and for us to demonstrate making the time to study nature and our Father's creation! Remember, our children do what we do, not what we say!!
Until Next Time….
The following two tabs change content below.
Trish has been married to her best friend, David, for 16 years and they have three sons (aged 13, 12 and 9). Trish is from the coast of North Carolina, but they now live in rural West Tennessee on a 40+ acre farm. She has been homeschooling since 2009 and her homeschool style leans towards a Montessori approach with a heavy emphasis on hands-on learning. They also own a small business that Trish runs from home. Trish's family is Messianic and they love studying the Scriptures, learning Hebrew and growing in their faith and walk daily. In her spare time, Trish loves to write, work in their garden and can regularly be found trying to learn something new, modeling that learning is indeed a life-long endeavor!
Latest posts by Trish Corlew (see all)