This is another example of taking a traditional homeschool curriculum and supplementing with hands-on tactile materials to make it feel more Montessori. In Lesson 5 of Apologia's Flying Creatures we studied Bird Nests.  Did you know birds only sleep in nests when they are incubating eggs and when their babies are young.  So, their nests are not their homes.  For most birds in North America, the nesting season starts in March and ends by the end of August.  Birds instinctively know, when the days are getting warmer and longer, that it is time to construct nests.   (Note we are a participant in the Amazon Services LLC Associates Program, an affiliate advertising program.  Any money received via this relationship is used for our homeschool!  PS. I've made a grand total of $0.00 from affiliate marketing… but the FTC says I have to tell you that IF you buy it, I will make 4% of the sale as commission.)
Nests are made with a variety of materials from the typical straw, hay, and leaves to yarn, string, and dryer lint.  Most birds like to fill the nest where the eggs and babies will be with soft materials.  Hummingbirds will even pull lichen off trees to soften their nests.  Nests are built by the female bird typically, with some assistance from the male.  
For our homeschool, I made Zoology Lesson 5 Nesting 3 part nomenclature cards that include all the different types of nests covered:
Bower Nests

Weaver Nests

No Nests

Ground Nests

Mound Nests

Earth-Hole Nests

Cavity Nests

Platform Nests

Cup Nests

Adherent Nests
The "Try This" for Lesson 5 is making nests.  I can tell you from experience, they are MUCH harder to make than you might think and certainly can make a huge mess!  
Materials You Might Use to Try to Build Various Nests:
Grass

Twigs

Leaves

Straw

Mud

String

Cotton

Dryer Lint

Fishing Line
Directions:  
Now take the materials and try to build the various nests in the nomenclature cards.  Some are easier than others.  Here are some of our finished nests:
A Bower Nest: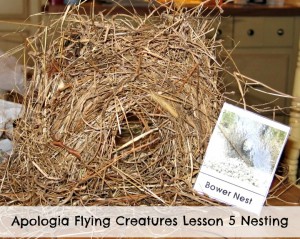 A Cup Nest (and a platform in the background):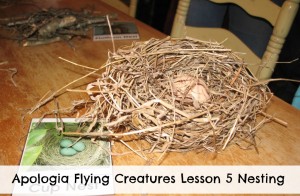 And the mess we made 🙂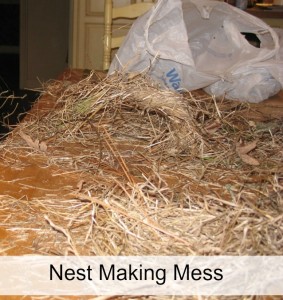 Let me know if you do make any nests and use the nomenclature cards. Leave a comment below with a link to your blog so we can see!  
Until Next Time…..
The following two tabs change content below.
Trish has been married to her best friend, David, for 16 years and they have three sons (aged 13, 12 and 9). Trish is from the coast of North Carolina, but they now live in rural West Tennessee on a 40+ acre farm. She has been homeschooling since 2009 and her homeschool style leans towards a Montessori approach with a heavy emphasis on hands-on learning. They also own a small business that Trish runs from home. Trish's family is Messianic and they love studying the Scriptures, learning Hebrew and growing in their faith and walk daily. In her spare time, Trish loves to write, work in their garden and can regularly be found trying to learn something new, modeling that learning is indeed a life-long endeavor!
Latest posts by Trish Corlew (see all)