Earlier this week a good friend introduced me to Logan LaPlante.  Logan is a 13 year old homeschooled teen that lives in Tahoe.  I loved the confidence this 13 year old demonstrated when presenting at their local TEDx conference. He is self-assured, funny, charismatic, bright, enthusiastic and hungry to learn…  His presentation is about Hackschooling, which is so Montessori (follow the child)!!  He wants to focus on how to THRIVE in life.  This boy gets it!  That is our goal as parents, to Teach our Children How to Thrive!  Let me introduce you to Logan!  
Logan started his presentation with THE question children hear most often… "What do you want to be when you grow up?".  I don't know about you, but I'm almost fifty years old and I'm still trying to answer that question for myself!  And that is my point.  For most of us, we are still dabbling, attempting to identify those things that bring us the most shalom (Hebrew for peace, completeness, wholeness).   I don't think most of us had the luxury of even contemplating what those things might be when we were younger.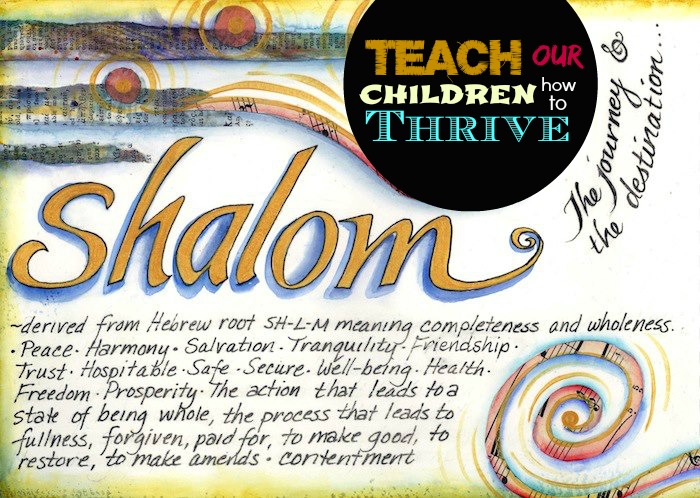 I love the question that Logan posed… "What if we based education on the study and practice of being happy and healthy"?  Here at Live and Learn Farm, we are focused on doing just that!  We teach our children that thriving is more important than JUST having a job; being happy (in life and career) is more important than being wealthy; and our health is more valuable than gold.  We focus on trying to help our children determine what they love to do, so they can explore career choices doing "that".  I've come to the conclusion … if you love your work, it's never a chore!  
Our faith, our love of nature, and our belief in life-long learning is the foundation that everything else is built upon.  Introducing experiences and encouraging exploration is an important aspect of our homeschool, in other words, we encourage our boys to "practice" being happy, healthy and engaged!  Currently they are engaged in art, music, writing, photography, gardening, sports, camping, hiking, raising farm animals, game development, and slide motion videos as various past-times.  Some of these are new interests and some are waning interests… but they are all being explored and we, as parents, are actively encouraging them.

WE have to be the innovators on how we educate our children.  Are we going to take the easy way out?  Remember the children are watching!  Are we going to use a curriculum that keeps our children in the house, on the computer or in a book?  Or do want them living and experiencing life as they learn their curriculum?  In order to encourage our children to think differently, to live life differently, to focus on things other than the dollar or the easy way out… we have to model it for them!  Just like photographers and artists look at landscapes differently, we must do the same!  We only get one chance with our children… I encourage you to examine everything you teach, how you teach it, and why.  Examine what you are modeling…  I challenge you today to take their curriculum to the next level.  Refocus, recommit and re-engage!  Teach your children how to thrive!!!  
Until next time….
The following two tabs change content below.
Trish has been married to her best friend, David, for 16 years and they have three sons (aged 13, 12 and 9). Trish is from the coast of North Carolina, but they now live in rural West Tennessee on a 40+ acre farm. She has been homeschooling since 2009 and her homeschool style leans towards a Montessori approach with a heavy emphasis on hands-on learning. They also own a small business that Trish runs from home. Trish's family is Messianic and they love studying the Scriptures, learning Hebrew and growing in their faith and walk daily. In her spare time, Trish loves to write, work in their garden and can regularly be found trying to learn something new, modeling that learning is indeed a life-long endeavor!
Latest posts by Trish Corlew (see all)