We've all heard the phrase "April Showers Bring May Flowers" right about this time of year.  Out of curiosity  I did a bit of research on the quote ('cause that is what homeschool moms do… we research and then teach what we learn to our children, right?).  Anyway, I discovered this often quoted proverb usually leaves out the first part, which is the month of March.  Here is the full quote (per wikipedia):
March winds and April showers bring forth May flowers
It was first recorded in 1886, and is a common expression in English- speaking countries.
Wind in March is an understatement these days!  I don't know about your area, but Spring usually brings with it some crazy weather here in West TN!  And this week has been a perfect example of the unpredictable weather!  Sunday, March 17th, we worked in our garden and I uncovered all of our strawberry plants after discovering our first strawberry blossoms peaking out.  Well, last night, March 21st, The National Weather Service issued a Winter Weather Advisory for SLEET for my area tonight!  THIS is typical spring weather for us!  
So, for the Montessori Mom's Spring Montessori Blog Hop topic I decided to focus on the weather of Spring.  
To introduce this characteristic of unpredictable spring weather to younger students it is really just a matter of actually paying attention to the weather.  This Weather Tracking work is perfect for Early Childhood / Primary students.  It is so easy to make!  You need four jars that are the same size, a "weather" card tied to each jar with the weather word and an image that exemplifies that weather event, and some "thing" to put in the appropriate jar for each day that has that weather.  You could track the weather for any length of time, but for younger students, a week is a great "long project" for them.  At the end of the week, you could show them how to create a simple bar graph with the "things" from the jars lined up above the picture labels.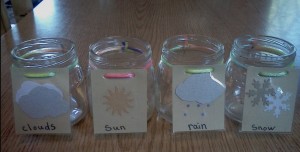 Weather Tracking Montessori Design
Another option to show just how unpredictable Spring weather really is pull historical weather data.  You could pull data for one specific day, say March 15th, for a series of years or a specific week for a series of years.  You might track the high temperature for that day, low temperature for that day, the amount of precipitation, wind speed, etc.  Just remember, the more variables, the more complex to graph the data.  The access historical date, I found that Wunderground has an historical data link where you can search by date all the way back to 1948!  Depending on the age of your child, graphing this data would be a great visual to understand the data and, in the process, teach them about different ways to display data.  Just remember the more variables to track and dates you track it for, the more complex the chart!  (Wouldn't this be a fun activity for your child to do for their birthdays throughout their life?)  For younger students, you can use a graph with pictures like this one I found at Funaslearning:
or for older students, you can use an advanced graph like this one found on Gringod.com:
or go somewhere in between like this one from North Conway Weather.  Also, you can bring in some math here by discussing ratios. How many days out of the total days researched had rain? had sunshine? etc. 

Spring is also a great time to do a cloud study.  Montessori Etc. Has some of the most beautiful and FREE Types of Cloud nomenclature card sets for the study of clouds:
I don't think any science study is complete without an experiment!  So I have to add at least one 🙂  This one would be fun for any age student …Making your own rain.  I first saw this experiment on Pinterest.  Weather Wiz Kid originally published it, but here it is with pictures of the different phases of the experiment on IcanTeachmychild.com:
To bring another dimension to your study of Spring weather, Handbook of Nature Study Blogspot does a fabulous job of bringing art and journaling in with their Seasonal Weather Study project.  Students are conducting some research, spending time outside and drawing what they see.  You can find her post here and her Seasonal Weather Study project here.  All of this website's experiments and studies are based off the Handbook of Nature Study by Anna Botsford Comstock If you don't have this book, it is one of the absolute best books on nature study and experiments.  I highly recommend it!  
Finally, no weather study would be complete with a discussion of the water cycle. This felt water cycle looks easy enough to make and would be a great project for the students to make and give a presentation on!  I love how felt "sticks" to each other, but to save money, it could certainly be made from construction paper!  
To help students remember details about the water cycle, here is a catchy little Water Cycle song.  This version is being performed by a precious 4 year old at a Montessori School:
Here are the words and hand movements that go with the water cycle song:  
(Sing it to the tune of She'll Be Coming Around the Mountain)
Water travels in a cycle, yes it does 
(use pointer finger to make a big circle)
Water travels in a cycle, yes it does
(repeat finger circle)
It goes up as evaporation
(moves hands up to the sky)
Forms clouds as condensation
(make a cloud overhead with arms)
Then comes down as precipitation, yes it does!
(sprinkle with fingers while bringing arms down in front of you)
And last but not least, here is a Free Water Cycle Study by Montessori Materials:  

For older students, I encourage my children to research and dig deeper with this Exploring Weather with Blooms unit. 
(By the way, isn't the introduction picture for this post just adorable?!  I contacted Sarah Jane to get permission to use this image for this blog hop, it just goes with a post about spring weather!  She has the most adorable artwork at http://shop.sarahjanestudios.com/pages/shop.  Isn't she amazingly talented!?!  I guess when you lack in the creative arts department, you appreciate talent even more!!   (And no, she is not a sponsor nor am I financially benefiting from saying this  🙂  )
Montessori in the Springtime Blog Hop
Please join us for the Montessori Spring Blog Hop! You can link up your Montessori-inspired spring posts anytime during the next 30 days. 
Hosted by:
Confessions of a Montessori Mom
Creative Care
The Education of Ours
JDaniel4's Mom
Live And Learn Farm
Living Montessori Now
Making Montessori Ours
Montessori Messy
Montessori Nature's Smile
Montessori on a Budget
Montessori Tidbits
Natural Beach Living
Our Montessori Home
Smiling Like Sunshine
The following two tabs change content below.
Trish has been married to her best friend, David, for 16 years and they have three sons (aged 13, 12 and 9). Trish is from the coast of North Carolina, but they now live in rural West Tennessee on a 40+ acre farm. She has been homeschooling since 2009 and her homeschool style leans towards a Montessori approach with a heavy emphasis on hands-on learning. They also own a small business that Trish runs from home. Trish's family is Messianic and they love studying the Scriptures, learning Hebrew and growing in their faith and walk daily. In her spare time, Trish loves to write, work in their garden and can regularly be found trying to learn something new, modeling that learning is indeed a life-long endeavor!
Latest posts by Trish Corlew (see all)