For Lesson 2 of the Columbus Unit of our Paths Of Exploration study, we are learning about explorers and their ships. Mom assigned me the project of writing about our sailboat adventure a couple of years ago. This is my report on our sailboat trip.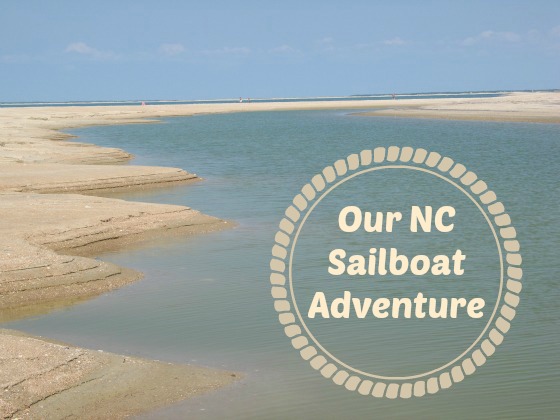 In 2010, we were visiting our granddaddy in North Carolina and rented a beach house on the beach in Emerald Isle. Close to the end of our trip, we rented a sailboat called the Good Fortune for the day. It was docked in Beaufort NC. We left Emerald Isle and traveled to the dock. There we met Captain Ron and his dog Rudder. It was his boat we were going on. We talked a little and then he had to get the ship ready. While he was doing that we explored the waterfront. Once the boat was ready, we left the dock.  
On the way to Cape Lookout, we saw many sea creatures like jellyfish and dolphins and red algae. We tried to get pictures of the dolphin, but we never got a good one. Captain Ron told us that this dolphin was released from Disney World and was tagged. The ride was gentle and calming I actually fell fast asleep with his dog, Rudder. When i woke up it was only a few minutes till we got to the island.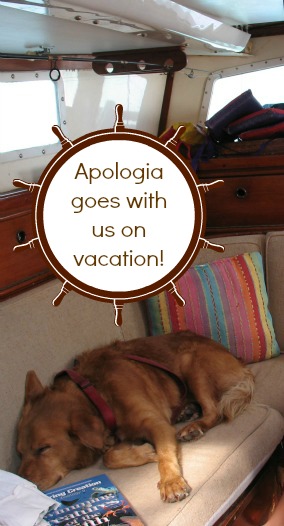 As we were anchoring, we were surrounded by pelicans! Captain Ron said they were looking for an easy meal. We had to ride in a dinghy to get to the island, once there we saw tiny black ovals everywhere! When we got a closer look they were actually snails… TONS of them! Then we starting exploring the island and saw an under water lizard, some crabs and a conch shell with another mollusk. Mom even brought the Apologia Swimming Creatures book for us to look up creatures we found!  
We hiked to the other side of the island and found a huge tide pool. We investigated the tide pool and swam in it… and saw that there was a sand shark in it with us! Luckily sand sharks don't bite people. Mom spent her time shell hunting up and down the beach. She found beautiful whole conchs and many unusual shells. Dad, my brothers and I investigated some large boulders along the shore. When Captain Ron told us it was time to leave, we all were sad. We were all having so much fun on this island. 
On the way back, I stayed awake the whole time and we got to see wild horses. We were going to go to the island where the wild horses were, but we stayed on the first island too long. Once we docked back at Beaufort, i was glad to be on land again.  
I found out I LOVED sailing and want to go back again!   
This slideshow requires JavaScript.