I am so excited to be part of the launch team for Philosophy Adventure and even more excited to share my review with you! I want to make it perfectly clear, I received a free copy of this curriculum for being one of the members of the launch team, but the views I express here are my own.  I have thoroughly enjoyed being on the team and getting to know Stacy Farrell, the author and the rest of the team. It has been a blessing! I am excited to finally be able to share my Philosophy Adventure Review with you!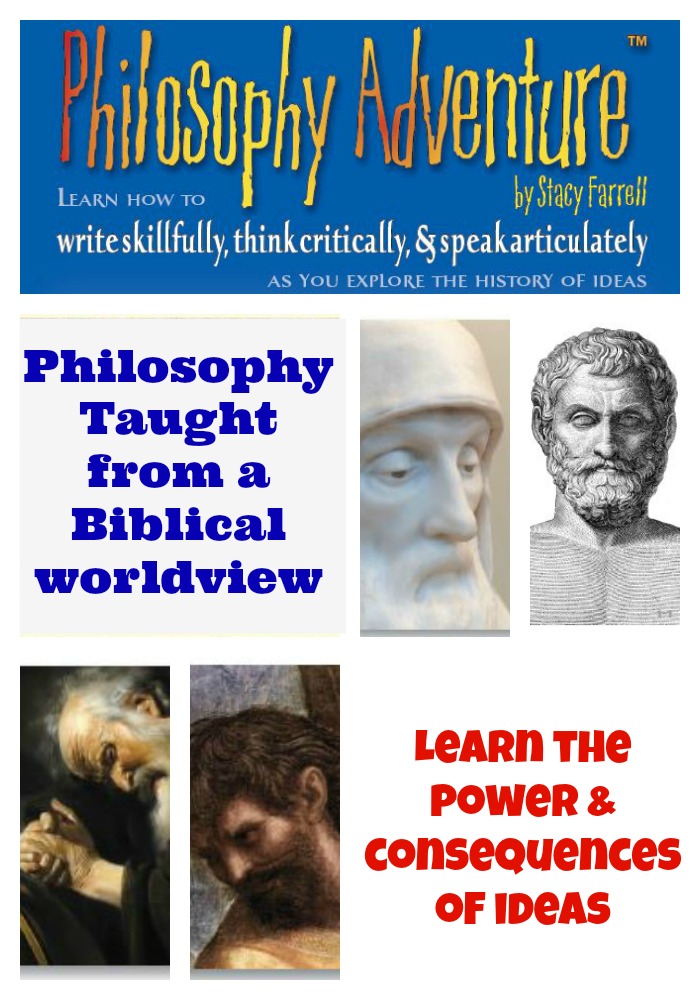 Let me start off saying, I was quite skeptical about a curriculum that would be teaching philosophy from a biblical perspective, for a couple of reasons. First, I don't have very a great deal of respect for the Greek Philosophers. Based on my research, most of them glorified their minds and not God, so I was already predisposed to not like this curriculum. Secondly, I questioned how teaching philosophy would benefit my boys in any way, besides the cursory introduction they have already had with our history curriculum. But I have to tell you, Stacy Farrell, the author of Philosophy Adventure, did a masterful job of introducing the philosophers, their teachings, their contemporaries and even their reach and impact on the modern day world; But that is not what I love about this curriculum (although it is all great). What I LOVE is how she also showed if the philosophers' beliefs align with scripture (or, more often than not, doesn't align with scripture). Another great aspect of this curriculum, although obviously Christian, Stacy does not present or defend a particular denominational worldview, she simply compares and contrasts the philosophers' views with scripture. And I LOVE that!  I read her book and resources from cover to cover, literally! It is really is fantastic! I am so excited to add this product to our curriculum list for this year! I am praying that Stacy will continue with this series and teach us the philosophers after Socrates!  
What exactly is the curriculum?
This curriculum presents Philosophy from a Biblical worldview.  It cultivates knowledge, compares and contrasts beliefs and empowers our children to be able to defend their biblical worldview as they explore the history of philosophy and the impact of ideas.
What grade levels is Philosophy Adventure written for? 
6th-12th grade and can be used for high school credit. But I can honestly say, I've learned so much from reading this curriculum too!  And your children can receive high school credit for this course!
How does the author present the subject to our children?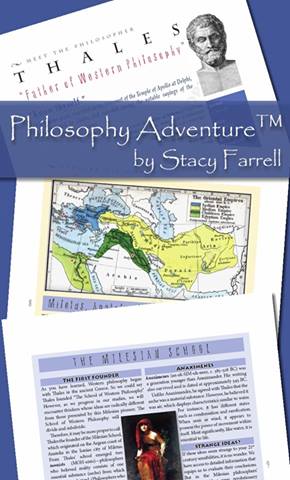 There are several components that are repeated in every lesson.
1.  The Philosopher's Story
2.  Write, Think and Speak Articles and Assignments
3.  Geographical Information
4.  Contrast of source material and biblical worldview.  
The lessons provide thought-provoking material that will inspire meaningful discussions and create opportunities for parents to communicate their perspective and beliefs on a number of significant subjects.  If you are like me, you need to see the material, so I am including a sample chapter of the curriculum.
Summary
Philosophy Adventure is engaging, thought provoking and an excellent resource to study philosophy, but most importantly, it is a great springboard for discussions with our children about scripture and our understanding of God's will in our lives.  In a fallen world, if we don't teach our children about God, they won't learn and God commands that it is our job to teach our children!  Thank you Stacy for a great curriculum that helps us have these critical conversations with our children.  
Deuteronomy 6: 6 These words, which I am ordering you today, are to be on your heart; 7 and you are to teach them carefully to your children. You are to talk about them when you sit at home, when you are traveling on the road, when you lie down and when you get up. 8 Tie them on your hand as a sign, put them at the front of a headband around your forehead, 9 and write them on the door-frames of your house and on your gates. 
Stacy has provided some coupon codes for us to share with you! Hurry though, these expire August 7th 2013.  
BACK-TO-SCHOOL-10 – 10% off any print edition of our resources
BACK-TO-SCHOOL-25 – 25% off any digital edition of our resources
AND here is another opportunity to win a curriculum set along with some fabulous other prizes!!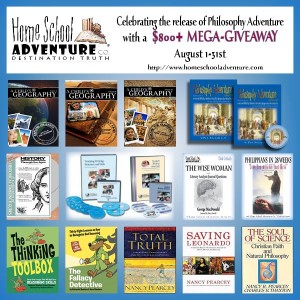 The following two tabs change content below.
Trish has been married to her best friend, David, for 16 years and they have three sons (aged 13, 12 and 9). Trish is from the coast of North Carolina, but they now live in rural West Tennessee on a 40+ acre farm. She has been homeschooling since 2009 and her homeschool style leans towards a Montessori approach with a heavy emphasis on hands-on learning. They also own a small business that Trish runs from home. Trish's family is Messianic and they love studying the Scriptures, learning Hebrew and growing in their faith and walk daily. In her spare time, Trish loves to write, work in their garden and can regularly be found trying to learn something new, modeling that learning is indeed a life-long endeavor!
Latest posts by Trish Corlew (see all)