We love venison!  It may very well be a southern thang… but we eat our fair share of venison.  We eat biblically clean and deer are clean animals…. so venison has risen on our menu (as has turkey) since pork left it!  
Anyway, back to the recipe… One of my ABSOLUTE favorite crock pot cook books is Fix-It and Forget-It Cookbook.  I found this recipe on page 102 for Peppery Roast Venison Recipe – Crockpot version.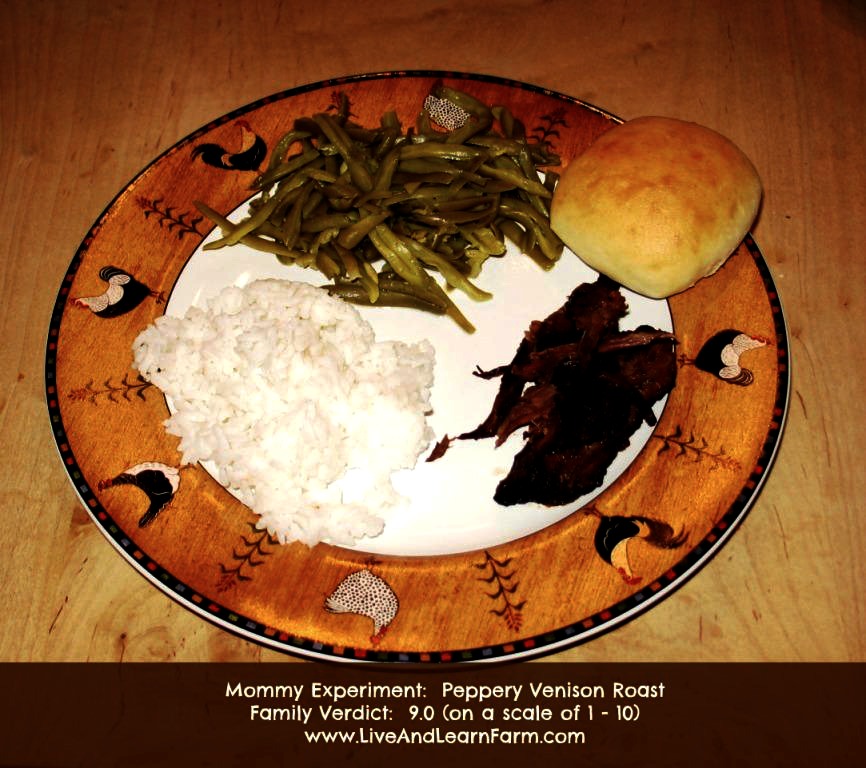 Here is the recipe:
Peppery Roast Venison Crockpot Recipe
4-lb Beef OR Venison Roast

1 tsp Garlic Salt

1 tsp Onion Salt

2 tsp Celery Salt

1 1/2 tsp Salt

2 tsp Worcestershire Sauce

2 tsp Pepper

1/2 cup Ketchup

1 TBSP Liquid Smoke

3 TBSP Brown Sugar

1 TBSP Dry Mustard

Dash of Nutmeg

1 TBSP Soy Sauce

1 TBSP Lemon Juice

3 drops of Hot Pepper Sauce
1.  Place roast in slow cooker
2. Combine ingredients and pour over roast
3. Cover, cook on High 6-8 hours.  (I can tell you the heat was too high for too long.  I have already had to add beef stock to the crock pot to keep it from burning).  So, maybe the first two hours on high and reduce to low for the rest of the 3+ hours.  Obviously check it to be sure it is cooked thoroughly before eating it!
So it turned out great.  Hubby loved it.  Boys really liked it.  It did cook about an hour too long.  So, I'd adjust the recipe to 2.5 on high and 2.5 on low and then check to see if it is thoroughly cooked.  The family rated it a 9 on a scale of 1-10 (10 being the highest score).  So… We will be cooking this one again with the amount of time adjusted accordingly.  
Until next time….
The following two tabs change content below.
Trish has been married to her best friend, David, for 16 years and they have three sons (aged 13, 12 and 9). Trish is from the coast of North Carolina, but they now live in rural West Tennessee on a 40+ acre farm. She has been homeschooling since 2009 and her homeschool style leans towards a Montessori approach with a heavy emphasis on hands-on learning. They also own a small business that Trish runs from home. Trish's family is Messianic and they love studying the Scriptures, learning Hebrew and growing in their faith and walk daily. In her spare time, Trish loves to write, work in their garden and can regularly be found trying to learn something new, modeling that learning is indeed a life-long endeavor!
Latest posts by Trish Corlew (see all)