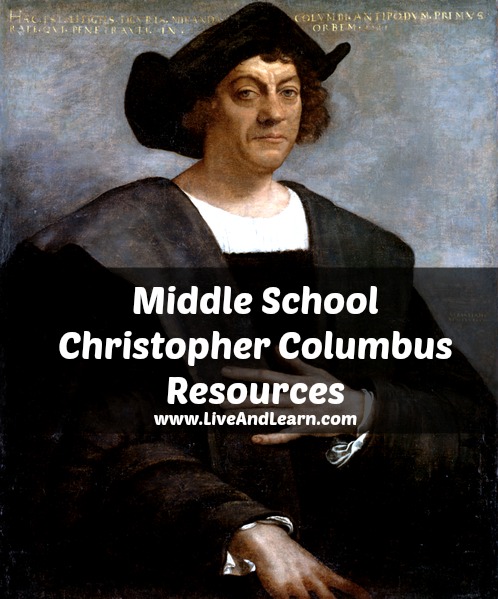 In my article on Paths of Exploration Columbus Unit, I mentioned our library of resources and decided to list for you what we are using for our upper elementary and middle school Christopher Columbus resources.  These are not all the great books out there, but the ones we need that we don't have we either purchase on Kindle or we borrow from the public library.  I pray these resources will be a blessing for your homeschoolers! 
First I thought I would share the required reading books (and materials) for the Trail Guide to Learning Paths of Exploration Columbus Unit curriculum.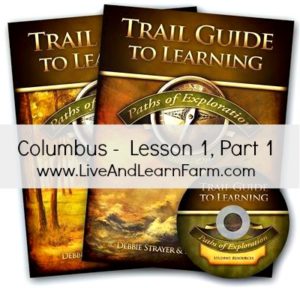 Required Reading / Materials
Meet Christopher Columbus by James T. de Kay 
Christopher Columbus by Bennie Rhodes
Crayons or Colored Pencils
Paste
Birthday Pictures
Yellow Highlighter or Crayon
Index Cards or Paper
Graph Paper
Magazines, Newspapers, etc.
Large World Outline Map
Carry On, Mr. Bowditch (Middle School Supplement Required Reading)
Our Christopher Columbus Resources 
Christopher Columbus Coloring Book (For drawing not coloring)
Columbus Day by Vicki Liestman Lower Elementary Reading Level
Scholastic Atlas of Exploration by Dinah Starkey Upper Elementary Reading Level
The Usborne Book of Explorers From Columbus to Armstrong Upper Elementary Reading Level
The Value of Curiosity:  The Story of Christopher Columbus a ValueTale by Spencer Johnson, M.D.  Upper Elementary Reading Level
Kids Discover Columbus October 1992 Issue Lower and Upper Elementary 
The Life and Times of Columbus by Curtis International / Portraits of Greatness Series Middle School – High School
Columbus For Gold, God, and Glory by John Dyson / Peter Christopher Middle School – High School
The Conquest of Paradise:  Christopher Columbus and the Columbian Legacy High School
A New History of the United States by William Miller and George Braziller High School
The Oxford History of the American People by Samuel Eliot Morison High School
And just to be sure we study all the recent research on Christopher Columbus, there are quite a few scholars that are now hypothesizing that Christopher Columbus was Jewish.  You can find articles about this in CNN, Huffington Post, as well as Christopher Columbus' Jewish Roots by Jane Francis Amler.

If you know of other books or resources that you would add to the list, please comment below with the title and author!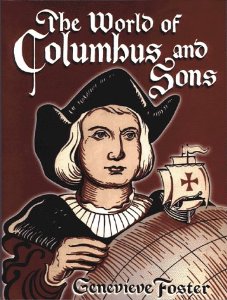 UPDATE 7/12:  I have since added a fabulous book that has not been added to our library list yet. The World of Columbus and Sons by Genevieve Foster. This author has written many books (I purchased several used in a lot on ebay). I stumbled upon these when reading somebody's discussion of the Beautiful Feet History curriculum. These readers are a core part of BF History. We just love them. The summary of the book from Amazon reads:
This is the story of a wonderful, changing, reawakening world the world of the Renaissance and Reformation. Measured by the lifetime of Columbus and his sons, this book spans the years from 1451-1539. With Columbus as the central figure of this narrative, readers will also learn the fascinating stories of Prince Henry the Navigator, Ivan III of Russia, Gutenberg, Queen Isabella, Leonardo da Vinci, Mohammed II, the African ruler Nomi Mansa, Martin Luther, Erasmus, Albrecht Dürer, Copernicus, Michaelangelo and many others. Told in Foster's engaging and winsome style enhanced by her helpful chronologies and timelines, readers will learn of the religious, cultural and scientific changes that ushered in a new frontier of exploration and discovery.
I have started calling books like this Historiction. Historical but within a fictional story. Think about all the great Henty Books that are exactly this same formula. My boys seem to love them so that is another book that is part of their 30 minute reading options.  
Until next time……
The following two tabs change content below.
Trish has been married to her best friend, David, for 16 years and they have three sons (aged 13, 12 and 9). Trish is from the coast of North Carolina, but they now live in rural West Tennessee on a 40+ acre farm. She has been homeschooling since 2009 and her homeschool style leans towards a Montessori approach with a heavy emphasis on hands-on learning. They also own a small business that Trish runs from home. Trish's family is Messianic and they love studying the Scriptures, learning Hebrew and growing in their faith and walk daily. In her spare time, Trish loves to write, work in their garden and can regularly be found trying to learn something new, modeling that learning is indeed a life-long endeavor!
Latest posts by Trish Corlew (see all)