Welcome to our Middle and High School LinkUp #10 for tweens, teens and their Moms! We are so excited to have a linkup for our children to have a creative writing outlet and for us moms to have a place to share middle school and high school homeschool tips and techniques. The students are provided a creative writing prompt. They write their article on their own blog on their mom's blog and then link their articles below.
You can link up at any of the following co-host's sites:
Amy at Homeschool Encouragement
Clara at Clara's Blue Moon (teen co-host)
DaLynn at Holy Splendor
Jennifer at Royal Little Lambs
Laura at Day by Day in Our World
Trish at Live and Learn Farm
Vicki at 7 Sisters Homeschool
Wendy at Homeschooling Blessings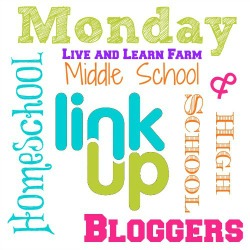 If you are interested in joining us, linkup your article below. If you want to co-host, email me and let me know. Our focus for the co-hosting is for only moms of the teens, or the teens themselves to co-host.
guidelines for the linkup:
The link-up will be open Monday through Saturday evening.
Please link directly to the url of your post (permalink).
Please check back and visit at least one of student's submissions and leave a comment for them. Our job is to encourage writing, their Mom (or Dad) will take care of the critique

If you don't mind, please place the button and code in your blog post so others can find out about the linkup also!
That's it!
and now it's time for the link up!
For this week's theme, let's choose to write from one of these topics:
Who do you admire the most in the world? Why?
If you could live as any one person for a day, who would you choose and why?
If time travel was possible, which year would you go back in time to? Give a reasons for your answer.
What is your favorite book? What did you enjoy the most about it?
Describe your favorite vacation spot. Give reasons as to why you enjoy going there.
If you could change any one thing in the world, what would it be and why?
Write a paper describing a favorite day you spent with your family. Give at least three reasons why you enjoyed this day so much. Be as specific as possible.
What kind of music do you like listening to? What are your favorite singers or bands? Give reasons for your choice.

https://www.udemy.com/blog/expository-writing-prompts/
If none of these are of interest, feel free to choose your own.
The following two tabs change content below.
Trish has been married to her best friend, David, for 16 years and they have three sons (aged 13, 12 and 9). Trish is from the coast of North Carolina, but they now live in rural West Tennessee on a 40+ acre farm. She has been homeschooling since 2009 and her homeschool style leans towards a Montessori approach with a heavy emphasis on hands-on learning. They also own a small business that Trish runs from home. Trish's family is Messianic and they love studying the Scriptures, learning Hebrew and growing in their faith and walk daily. In her spare time, Trish loves to write, work in their garden and can regularly be found trying to learn something new, modeling that learning is indeed a life-long endeavor!
Latest posts by Trish Corlew (see all)