Just wanted to be sure my readers saw this fabulous giveaway happening thanks to Edmund Scientifics and Hip Homeschool Moms!  The first giveaway is for a Tech Light Kit.  It is fantastic!   Jennifer, a local friend , sister soccer mom, and teammate on Hip Homeschool Moms, reviewed this product and she said her son, River,  just loved doing these experiments!  Be sure to check out her review and share your thoughts on it!
We covered the study of Light in our Astronomy curriculum from Apologia!  I wish we had this kit to help us study the bending, blending, reflection and refraction of light back then!  It is so much fun to watch their eyes light up when they have the "aha" moment that happens with understanding… the moment  we are all addicted to!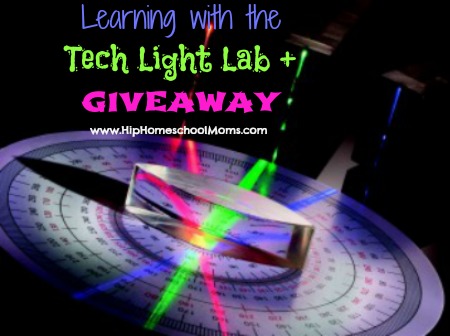 As a Montessori homeschool mom, my goal is to ignite my children's interest, to spark their imagination and offer tools that encourage exploration… these products do just that!  If you are not familiar with the products from Edmund Scientifics, you should get to know them!  When I was the Chairman of the Board for my boys' former Montessori School, I purchased so many of their items for the school… and have continued since we brought the boys home to homeschool!
This review / giveaway is  only the first of 9 weeks of giveaways from Edmund Scientifics!  Be sure to watch for all the fabulous reviews and giveaways coming up for the weeks leading up to the holidays! We celebrate Chanukah and it comes early this year… it starts around Thanksgiving!
The Hip Homeschool Mom team and their families are thoroughly enjoying writing these reviews!  Thank you Edmund Scientifics for the opportunity to partner with you!

The following two tabs change content below.
Trish has been married to her best friend, David, for 16 years and they have three sons (aged 13, 12 and 9). Trish is from the coast of North Carolina, but they now live in rural West Tennessee on a 40+ acre farm. She has been homeschooling since 2009 and her homeschool style leans towards a Montessori approach with a heavy emphasis on hands-on learning. They also own a small business that Trish runs from home. Trish's family is Messianic and they love studying the Scriptures, learning Hebrew and growing in their faith and walk daily. In her spare time, Trish loves to write, work in their garden and can regularly be found trying to learn something new, modeling that learning is indeed a life-long endeavor!
Latest posts by Trish Corlew (see all)