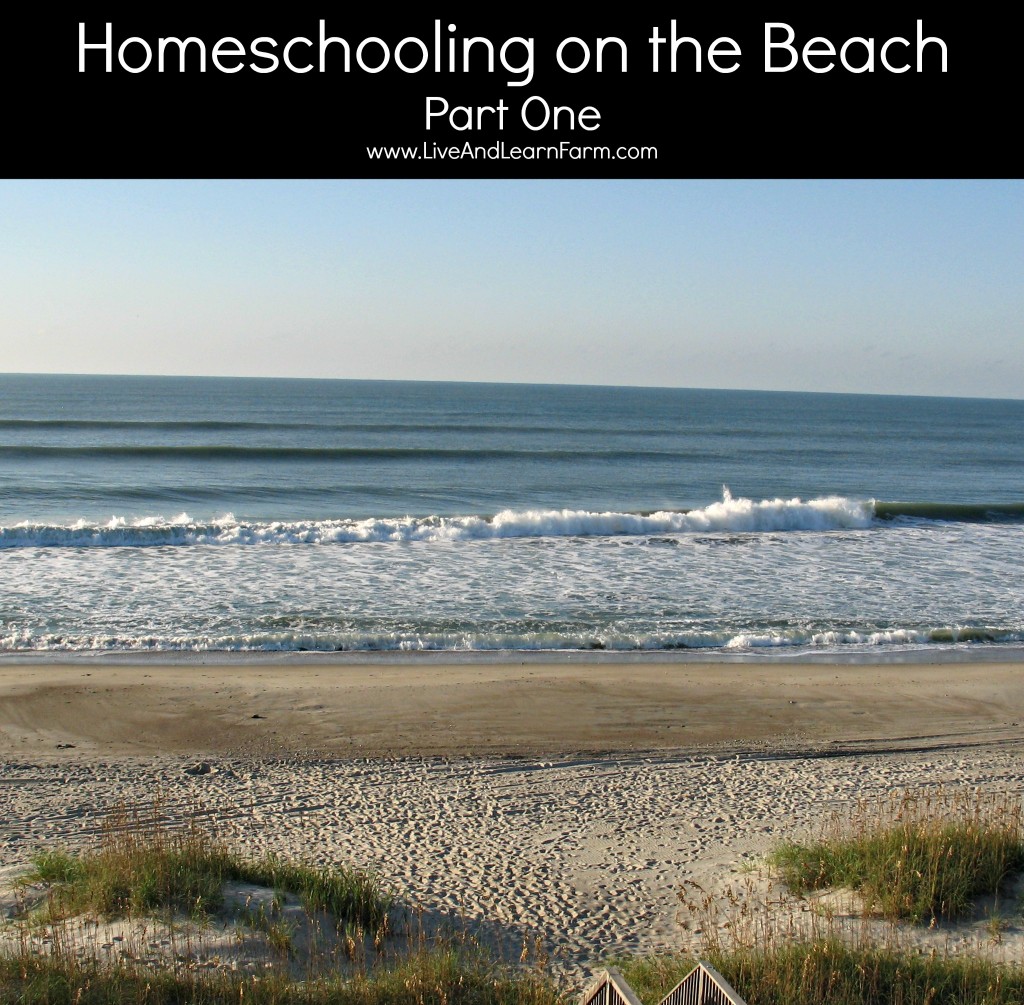 Are you in the process of planning your beach vacation?  If you are, be sure to not leave your homeschool at home.  Studying with the ocean as your backdrop can bring in almost any subject you can imagine.  And, if you don't live in an area where saltwater creatures are geographically close, you don't want to miss this opportunity to teach it while you are on location!  Since we homeschool, we are not limited to vacations when our children are "out of school".  We get to be creative about the "out of school" and vacation timing which allows us to make the most of the discounts available for the off seasons.  So you might consider a longer stay to get even more homeschooling in!  We spent a month on the coast of North Carolina in August and we learned so much about zoology and saltwater life that we could only learn there at the beach!  We did get run off the beach due to two hurricanes, but the absolute best homeschooling occurred right after the storms.  The storms brought in fabulous sealife, amazing shells and treasures from the depths!  So don't be afraid to go in the late summer months!  Because there are just so many great opportunities and activities to teach at the beach, I have decided to break this topic into several posts .  So, part one will be about some lessons you might want to teach leading up to your beach vacation.  
If you have been following our blog, you already know that we take traditional curriculum and make them more hands-on and tactile learning materials.  With Apologia Swimming Creatures it is already a hands-on learning text, but we have added even more experiments and activities to help make your beach vacation a great experience homeschooling on the beach!  (Note we are a participant in the Amazon Services LLC Associates Program, an affiliate advertising program.  Any money received via this relationship is used for our homeschool!  PS. I've made a grand total of $0.00 from affiliate marketing… but the FTC says I have to tell you that IF you buy it, I will make 4% of the sale as commission.)
Geography is one of those subjects that I like to teach before we leave.  I will assume you are heading to an ocean, if you are reading this article, so the first thing we want to cover is the oceans of the world!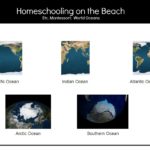 Etc. Montessori has a beautiful free set of hands-on materials to cover World Oceans.  Click here to download them from their site.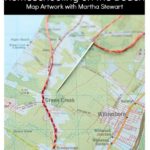 Another great way to teach geography is to map out the trip.  This is another project you can do before you leave.  I love building up the anticipation of going on vacation.  Believe it or not, Martha Stewart really adds a bit of an artistic flair to this one.  I LOVE this idea and will be doing this myself!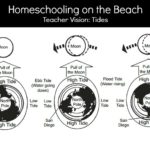 Another subject to teach before you go to the beach is about tides.  What causes the tides?  Here is a great print out from TeacherVision (if you are not using the Apologia Swimming Creatures textbook).  There is a great experiment on ehow to demonstrate how the gravitational pull creates the tides by using a magnet and metal shavings.  However, I can't find a single picture of the experiment online.  So, I guess we'll do it and post the pictures 🙂  When I do, I'll add the link here.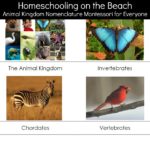 If you have not started studying Zoology yet, this would be a great time to introduce  animal classification, since so many ocean creatures are invertebrates (do not have backbones).  Montessori Materials has some free classification works here.  Matri Learning has a chart here.  The Helpful Garden has over 20 free sets of Zoology Materials to download including classification and sorting cards.  The Homeschool Den created some invertebrate cards and lots of other ocean activities! If you are in a position to purchase a beautiful set, Montessori for Everyone has wonderful nomenclature cards that are quite affordable.  
Here is a short "homeschooling on the beach" packing list.  If I have left anything off, please leave me a comment so I can add it! 
Nature Notebook to sketch / draw and journal in

Sketch Pencils

Magnifying Lens  

Binoculars

Camera (like we would go on vacation without one … )

Plastic Bags, Totes, Buckets, Bottles to take home some beach samples (sand, saltwater, shells, etc.)


Ocean Field Guide (can be borrowed from the library) 

Plain paper or a notebook and pencil

Ruler
Part two will be the various studies to do once you are at the beach!  I will add a link here once it is posted.    
Until next time…