As a homeschooling mom of upper elementary and middle school children, I sometimes struggle to find reading resources that both my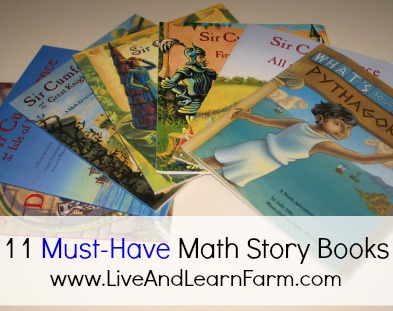 boys and I love, especially math.  The ones listed below are ones that we all agree are fabulous!  I can not tell you how many times we refer to these stories when remembering equations or concepts! Look at their ratings… we are not the only ones that love them. We read them in lower elementary, but we regularly review them now in upper elementary and middle school.  The stories are fun and silly and most importantly, MEMORABLE, which is the goal, right?  So let's get to the list of Must-Have Elementary Math Stories!  When you click the pictures below, it will take you directly to Amazon.  
What's Your Angle, Pythagoras.  Grades 3-5 (although I would say upper elementary 4-6).  A fictionalized look at Pythagoras as he discovers his famous theorem. He is depicted as a curious boy who travels with his father from Samos to Alexandria, where he meets a builder named Neferheperhersekeper, who introduces him to the right angle. He begins to experiment, observing and noting the fixed and unvarying mathematical nature of triangles–right triangles, to be precise. The cartoon illustrations capture the dress, homes, and sailing ships in a warm and clear palette. Ellis includes delightful puns for those who are keen on wordplay. Sticklers be warned: there is lots of dialogue, but in the context of the story, it works well and helps to explain the math. This clear and interesting explanation of the theorem is a wonderful read.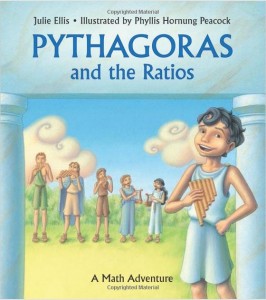 Pythagoras and the Ratios by Julie Ellis carries young mathematicians and musicians back to Ancient Greece where an ever-curious Pythagoras enjoys solving problems so much that he often forgets to finish his chores. Young Pythagoras helps his cousin Octavius tune his new pipes by comparing them to his own and realizing that because they are twice as wide, they also need to be twice as long. Using the same ratios, he ties rocks of varying weight to the lyres of Reyna and Amara so that all of the cousins can play their instruments together for the first time in history.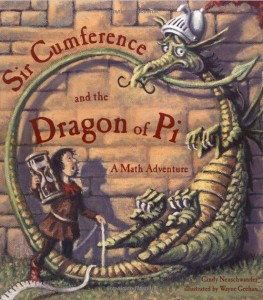 Sir Cumference and the Dragon of Pi.  When Sir Cumference turns into a dragon, Lady Di of Ameter helps him hide, while Radius searches for the cure–the magic number that is the same for all circles.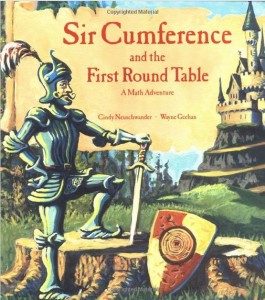 Sir Cumference and the First Round Table.  King Arthur has a Problem! When his knights get together, they sit at such a long table that everyone has to shout to be heard. Can Sir Cumference and Lady Di of Ameter "measure up" to the challenge of building a better table? Explore the castle, watch a tournament, and ride along with Sir Cumference as he searches for the shape of the future. Noisy knights, a clever carpenter, and a juggling jester all add to the fun.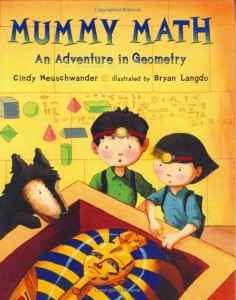 Mummy Math.   The Zills family is summoned to Egypt to help find the hidden burial chamber of an ancient pharaoh. But when Matt and Bibi get trapped in the pharaoh's pyramid, they stumble upon an even bigger mystery. With only each other, their dog Riley, and the geometric hieroglyphics on the walls to help them, the twins must use their math skills to locate the burial chamber—and the way out. Luckily, Matt and Bibi know their stuff when it comes to geometric solids, and so will the readers of this adventure in math!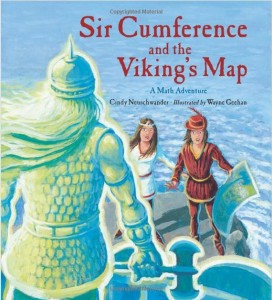 Sir Cumference and the Viking's Map.  Xaxon Yellowbearyd was the fiercest Viking warrior of his time. Now a map to his hidden treasure lies in Radius's and Per's hands. Together the cousins must decode the strange numbered grid on the map-and figure out the secret of the Viking's X and Y axes. As bungling bandits pursue them, Radius and Per use coordinate geometry in their quest for "treasure of the greatest measure".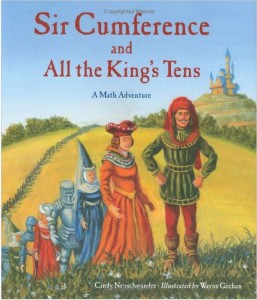 Sir Cumference and All the King's Tens.  Sir Cumference and Lady Di planned a surprise birthday party for King Arthur, but they didnt expect so many guests to show up. How many lunches will they need? And with more guests arriving by the minute, what about dinner? Sir Cumference and Lady Di have to figure out a quick way to count the guests to bring order to the party. Sir Cumference and his friends have been entertaining young and old alike for years as they introduce important math concepts with clarity and humor.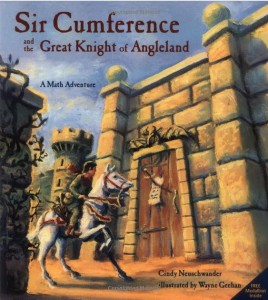 Sir Cumference and the Great Knight of Angleland.  On a quest to earn his knighthood, Radius uses different geometry concepts to find and rescue a missing king.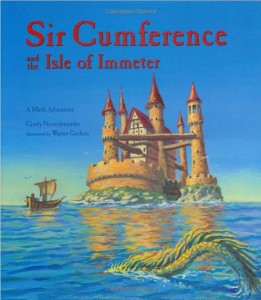 Sir Cumference and the Isle of Immeter. In an adventurous title that teaches math skills, such as finding the area and perimeter of a rectangle and a circle, young Per must figure out how to unlock the secrets of the mysterious island of Immeter.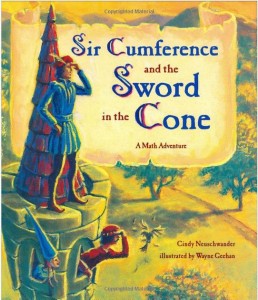 King Arthur and the Sword in the Cone.  King Arthur has issued a challenge. The first knight to find the sword, Edgecalibur, will be the next king. Sir Cumference, Lady Di of Ameter, and Radius help their friend, Vertex, find the sword.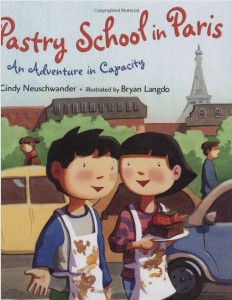 Pastry School in Paris.  The Zills family is off to Paris to see the sights and take a class at the International Pastry Academy! In class, Matt and Bibi have to measure liquids to make lollipops. It's hard work, but knowing about different liquid measurements comes in handy when the Inspector General pays a visit while everyone else is out.  The twins want to help. Will their knack for baking the best-ever brownies and their knowledge of capacity be enough to save the day?
What are your favorites?  Please leave a comment below so we can check them out too!  Until next time… 
The following two tabs change content below.
Trish has been married to her best friend, David, for 16 years and they have three sons (aged 13, 12 and 9). Trish is from the coast of North Carolina, but they now live in rural West Tennessee on a 40+ acre farm. She has been homeschooling since 2009 and her homeschool style leans towards a Montessori approach with a heavy emphasis on hands-on learning. They also own a small business that Trish runs from home. Trish's family is Messianic and they love studying the Scriptures, learning Hebrew and growing in their faith and walk daily. In her spare time, Trish loves to write, work in their garden and can regularly be found trying to learn something new, modeling that learning is indeed a life-long endeavor!
Latest posts by Trish Corlew (see all)