We are about to wrap up the 2012-2013 school year.  That means it is time for me to assess what is working and not working in our homeschool and to do some reviews on the curriculum we used.  So, this is the first of many reviews coming!  Let me start by saying, this is not a paid or sponsored review. I will be doing reviews in the future on products that were given to me in return for my honest opinion, but this review of Excellence in Writing Geography Based Writing Lesson is strictly just me speaking from my own opinion and experience on a curriculum I purchased.  
I had been hunting a writing curriculum for a couple of years and we've experimented with a few that were pretty lackluster (I'll write reviews on them later)!  I had been hearing great things about Excellence in Writing (IEW) for years but, I'll be honest, I was too intimidated to try it!  It took me three years of homeschooling experience under my belt to build up the fortitude to try IEW.  Even then, I tip-toed into the IEW waters with their Geography based writing lesson using Beautiful Feet for Geography and a few of Holling Clancy Holling's books.  
Foundation for the review, our Homeschool Environment:
I think it matters the ages and gender of the children that were taught the material.  So, my experience and opinion is based on the success with my boys, ages 13, 11, and 9 years old.  Since this curriculum is recommended for children in Grades 3 – 7, it is the exact range of my children!  
We had not read these wonderful books by Holling Clancy Holling, so even without the IEW curriculum, these were such a treat in and of themselves!  The boys loved them!!  They would read the homework assignments and would regularly read ahead and usually go ahead and finish the book in the first sitting.  This was fine because we also read the books out loud in class and these readings were inline with the homework as it was assigned.  We did Literature/Writing one day a week for three hours a day, plus homework.  They probably spent no more than five hours a week on this topic.  
IEW Geography Review:
I will give you details about the first book we read Paddle to the Sea in this curriculum and provide details step by step of what we did.  The first lesson in Paddle to the Sea was using keywords to outline various texts from the book.  Once they had created outlines of the keywords, they then had to paraphrase the paragraph back using one of their brothers' notes!  This was so much fun for the boys to figure out how to identify the key words in a text and they loved creating  symbols instead of words to get to the most basic outline possible!  We quickly realized there is an art to using symbols to understand and relate back the text.  You can find some common note-taking symbols online by doing a simple google search but I challenge you to go further.  It will make it so much more fun for your children!  
In Lesson Two, we learned all about the "Banned Word List".  This was another extremely fun activity for the boys.  They had to figure out words to use instead of the common words listed on the banned word list.  Here are the banned words that could not be used when reporting on Paddle to the Sea (and the rest of the books from here on out):

They took great pleasure in catching each other using one of the banned words!  The IEW PDF download provides a form for these banned words and ideas of words we could use to replace them.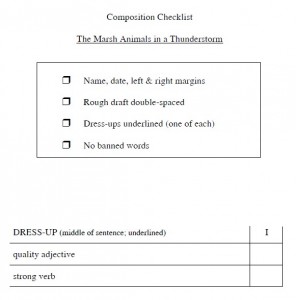 Lesson Three is writing from notes.  The boys wrote a one paragraph report on the Marsh Animals in a Thunderstorm.  They started with a keyword outline summarizing the text they read.  They then were assigned a one paragraph report based on the keyword outline.  They used this checklist which is part of the IEW Geography Course.   
In Lesson Four, the boys are introduced to "Dress ups".  The first set are the quality adjectives and strong verbs.  This concept is practiced through Lesson Five.  In Lesson Six the boys were introduced to the next dress-up which was -ly words.  Of course, "ly" words are adverbs, so they are adding adverbs into their writing now.  
We have now reached Lesson Eight in our review and we are at the climax of the Paddle to the Sea.  So you can see, it has a nice progression of stepping into the writing assignments and giving our children lots of time to get comfortable with the material before moving on to the next concept.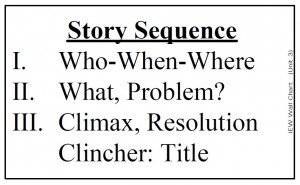 Now, in Lesson Eight, we move into the first big writing assignment, a three paragraph report.  We are provided with a Story Sequence Chart that guides students to outline the sections of the story so they can write their own version.  The IEW manual provides several questions for each section and actually provides the story sequence outline for two different sections to give students help in starting this critical piece of the lesson and the final one introduced in Paddle to the Sea.  
With each book after Paddle to the Sea, IEW added more Dress-ups and more ways for the boys to express themselves in more complex ways.  The other three books that are read as part of this curriculum are:
We LOVED this curriculum!!!  I honestly cannot say enough good things about it.  It gets the highest rating on my scale, a 5 star!  I highly recommend Excellence in Writing period!  They have a yahoo group for questions you may have and the moderators usually answer the questions that day (if not within a few hours)!  They also have a yahoo group for used curriculum.  They do not penalize you or make it difficult for you to purchase their products used.  I can tell you though, they have an unconditional, no time limit, FULL GUARANTEE on their products.  If you teach it and don't like it, you can return for a full refund! (NOTE that only applies if you buy it directly from them).  They stand behind their products!  
Oh, did I mention that this curriculum was such a huge hit in my house that it has inspired my 13 year old son to write a book (unprompted by mom)!  Yep,  I'm sold, it receives 5 Stars from this happy homeschool Momma for sure!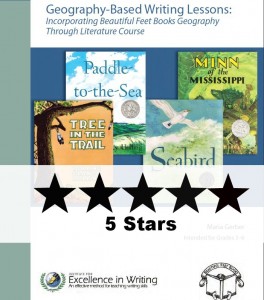 A couple of final thoughts about when I purchased this curriculum:
I WISH I had not been so intimidated by this curriculum and would have just purchased it earlier!  There is so much value in this curriculum that my boys could have been using earlier!  

I started with Geography instead of purchasing their core and foundational product Teaching Writing: Structure and Style (TWSS).  I really wanted to get to know the product before I invested a significant amount of money in it.  Once I purchased Geography, it clearly stated in the instructions that TWSS was a pre-requisite, but I still didn't listen.  By lesson eight, I was regretting not having TWSS and so I bought it then.  I had to reference that curriculum multiple times and watched several parts of the DVDs.  I used it as a resource through out this year's Geography curriculum, but TWSS is what I am teaching for the first half of 2013 – 2014 and Student Writing Intensive Group A (SWI-A) for the second half of 2013-2014.  
If you have any questions, feel free to ask!  
Until Next Time…. 
The following two tabs change content below.
Trish has been married to her best friend, David, for 16 years and they have three sons (aged 13, 12 and 9). Trish is from the coast of North Carolina, but they now live in rural West Tennessee on a 40+ acre farm. She has been homeschooling since 2009 and her homeschool style leans towards a Montessori approach with a heavy emphasis on hands-on learning. They also own a small business that Trish runs from home. Trish's family is Messianic and they love studying the Scriptures, learning Hebrew and growing in their faith and walk daily. In her spare time, Trish loves to write, work in their garden and can regularly be found trying to learn something new, modeling that learning is indeed a life-long endeavor!
Latest posts by Trish Corlew (see all)