This actually has been in the works for about 6 months… but I planned to have it up in the Fall. But God had other things in mind and I have just not had the time to circle back around and do this. But I am making the time now!  So, I spent last evening looking for an active and currently running middle school and high school linkup. There just are not many out there, but there are NONE like this one!  What is going to be so different about this linkup?  Keep reading….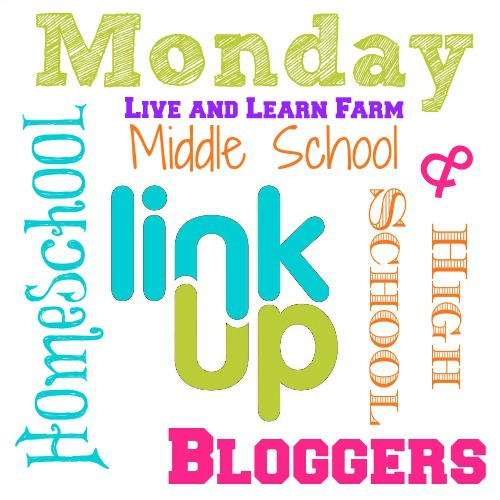 I am so excited to start this linkup and share and learn about middle school and high school ideas from other homeschoolers. The goal is for our students to become independent learners, right? So, here is where this linkup will be different.  My tweens and teens blog, so I wanted to create an environment where they can interact safely with other teens and tweens who are doing the same. So many moms have heard about what we are doing and LOVE the idea of allowing their children to incorporate blogging into their creative writing. Personally, I think blogging is a fantastic, practical, "real-life" way for them to do their creative writing homework! We use IEW to teach writing, so hopefully you will see some of their writing skills in action!  So, moms can share posts but so can our middle and high school students! If your children are blogging or you have thought about letting them do so… this is going to be a great place for them to share their posts about their homeschool experiences. It is going to be extremely flexible and easy to participate. I won't even require that anyone link back to Live and Learn Farm (of course, I will be providing the button and you can if you want to 🙂 ). We will also be looking for other middle school and high school homeschool bloggers to host the hop with us!Summary:  This New Monday linkup for Middle / High Schoolers and their Moms to share our #homeschool journey!  
One note of caution… I have my blog set up where all comments are moderated. I also have all blog emails to the boys forward to me. It is sad that we have to have this level of protection in place, but we do. I highly recommend you do the same if your children will be participating!  
And finally, here is a little bit about who I am …
I am not sure if I have shared over here on Live and Learn, I am now one of the co-owners of Hip Homeschool Moms!  It is an amazing group of women that I am completely honored to be a part of!  These homeschooling moms have been blogging much longer than I have, have much bigger blogs than I do, and seem to be WAY more organized than I'll ever be… they keep me humble, to say the least. But, I have learned a thing or two from them and I plan to keep learning from them. One of those areas that I have really been watching is how to host a blog hop… in case you are not familiar with the Hip Homeschool Hop, be sure to link up to it every Tuesday!  I will put all the things I'm learning into practice here to help our hop be active and visible!  
So if you are interested, please leave a comment below so we can plan this in the next few weeks.
The following two tabs change content below.
Trish has been married to her best friend, David, for 16 years and they have three sons (aged 13, 12 and 9). Trish is from the coast of North Carolina, but they now live in rural West Tennessee on a 40+ acre farm. She has been homeschooling since 2009 and her homeschool style leans towards a Montessori approach with a heavy emphasis on hands-on learning. They also own a small business that Trish runs from home. Trish's family is Messianic and they love studying the Scriptures, learning Hebrew and growing in their faith and walk daily. In her spare time, Trish loves to write, work in their garden and can regularly be found trying to learn something new, modeling that learning is indeed a life-long endeavor!
Latest posts by Trish Corlew (see all)