Wow, it is our Middle and High School LinkUp #13 for tweens, teens and their Moms! We are so excited to have a linkup for our children to have a creative writing outlet and for us moms to have a place to share middle school and high school homeschool tips and techniques. Although most of the moms seem to be so busy, we just don't have time to pull this off.  The students are provided a creative writing prompt.  They write their article on their own blog or on their mom's blog and then link their articles below.
You can link up at any of the following co-host's sites:
Amy at Homeschool Encouragement
Clara at Clara's Blue Moon (teen co-host)
DaLynn at Holy Splendor
Jennifer at Royal Little Lambs
Laura at Day by Day in Our World
Trish at Live and Learn Farm
Vicki at 7 Sisters Homeschool
Wendy at Homeschooling Blessings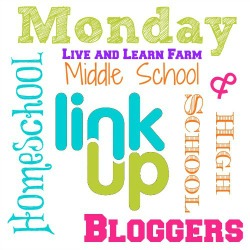 If you are interested in joining us, linkup your article below. If you want to co-host, email me and let me know.  Our focus for the co-hosting  is for only moms of the teens, or the teens themselves to co-host.
guidelines for the linkup:
The link-up will be open Monday through Saturday evening.
Please link directly to the url of your post (permalink).
Please check back and visit at least one of student's submissions and leave a comment for them.  Our job is to encourage writing, their Mom (or Dad) will take care of the critique 

 

If you don't mind, please place the button and code in your blog post so others can find out about the linkup also!
That's it!
and now it's time for the link up!
For this week's linkup theme, here are your options:
Alphabet Poem. Write a 26-line poem using all the letters of the alphabet. Have the first line start with the 

letter "A," the second "B," the third "C," etc.

Back From the Future. A knock at the door catches you off guard. Upon answering it, you're greeted by a man who says he's from the future—and he can prove it. More important, he says he has information that will save your life.

Stacey was bored. It was halfway through the summer and he was fed up, so he decided to go exploring.

"Base to Captain SkyFighter, Base to Captain SkyFighter. Come in Captain SkyFighter." "Captain SkyFighter. Come in Captain SkyFighter. Where are you?"
And a few from last week  prompts I found at Writing Forward., because they seemed to be popular!
You're digging in your garden and find a fist-sized nugget of gold.

Write about something ugly–war, fear, hate, or cruelty–but find the beauty (silver lining) in it.

The asteroid was hurtling straight for Earth…

There's a guy sitting on a park bench reading a newspaper…

He turned the key in the lock and opened the door. To his surprise, he saw…

Silvery flakes drifted down, glittering in the bright light of the harvest moon. The blackbird swooped down…

The detective saw his opportunity. He grabbed the waitress's arm and said…

There are three children sitting on a log near a stream. One of them looks up at the sky and says…

There is a magic talisman that allows its keeper to read minds. It falls into the hands of a young politician…

And you thought dragons didn't exist…

Write about nature. Include the following words: hard drive, stapler, phone, car, billboard.

The nation is controlled by…

You walk into your house and it's completely different–furniture, decor, all changed. And nobody's home.

Write about one (or both) of your parents. Start with "I was born…"

The most beautiful smile I ever saw…

I believe that animals exist to…

A twinkling eye can mean many things. Start with a twinkle in someone's eye and see where it takes you.

Get a package of one of your favorite canned or boxed foods and look at the ingredients. Use every ingredient in your next piece of writing.
The following two tabs change content below.
Trish has been married to her best friend, David, for 16 years and they have three sons (aged 13, 12 and 9). Trish is from the coast of North Carolina, but they now live in rural West Tennessee on a 40+ acre farm. She has been homeschooling since 2009 and her homeschool style leans towards a Montessori approach with a heavy emphasis on hands-on learning. They also own a small business that Trish runs from home. Trish's family is Messianic and they love studying the Scriptures, learning Hebrew and growing in their faith and walk daily. In her spare time, Trish loves to write, work in their garden and can regularly be found trying to learn something new, modeling that learning is indeed a life-long endeavor!
Latest posts by Trish Corlew (see all)