Welcome to our Middle and High School LinkUp #14 for tweens, teens and their Moms! We are so excited to have a linkup for our children to have a creative writing outlet and for us moms to have a place to share middle school and high school homeschool tips and techniques. Although most of the moms seem to be so busy, we just don't have time to pull this off. The students are provided a creative writing prompt. They write their article on their own blog or on their mom's blog and then link their articles below. I am so encouraged and excited seeing how their writing skills are developing and their creativity is flourishing! This has been such a blessing to me personally and to our homeschool! Thank you all for being a part of it!
You can link up at any of the following co-host's sites:
Amy at Homeschool Encouragement
Clara at Clara's Blue Moon (teen co-host)
DaLynn at Holy Splendor
Jennifer at Royal Little Lambs
Laura at Day by Day in Our World
Trish at Live and Learn Farm
Vicki at 7 Sisters Homeschool
Wendy at Homeschooling Blessings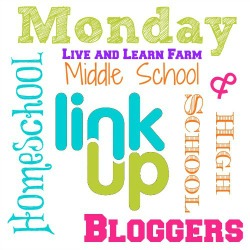 If you are interested in joining us, linkup your article below. If you want to co-host, email me and let me know. Our focus for the co-hosting is for only moms of the teens, or the teens themselves to co-host.
guidelines for the linkup:
The link-up will be open Monday through Saturday evening.

Please link directly to the url of your post (permalink).

Please check back and visit at least one of student's submissions and leave a comment for them. Our job is to encourage writing, their Mom (or Dad) will take care of the critique

If you don't mind, please place the button and code in your blog post so others can find out about the linkup also!

That's it!
and now it's time for the link up!
The story prompts seem to be working well… so I'm going to continue with these. Here is a list of prompts I found to help get your creative minds flowing!
Shadows quivered on the wall as the candle flickered, then fizzled to nothing.

I could just make out the windows high in the castle wall.

She SO did not want to be here, especially when. . .

He slammed forward as the brakes screeched and the car . . .

It was the strangest thing I had ever seen, with tubes and wires . . .

The lane was night-dark, even at noon.

He stared at the credit card, numbers blurring in front of his eyes, wondering if . . .

She ducked as the plate smashed against the wall behind her.

She hesitated at the post box, not knowing if she should really send the letter.

It was one of those days when everything seemed to go wrong.

My hand trembled as I punched the number into the phone.

She knelt on the tile floor, carefully picking up the shards of glass. Why did it have to be this one that broke?

Colors swooped and swirled behind his closed eyelids as the music soared, taking him back to . . .

The chattering birds made her smile, until she heard a growl.

The dream last night had seemed so real… it was just a dream, right?

The storm whipped the trees outside and she huddled under her quilt.

Sun, sand, sea—total relaxation. So why couldn't he let it go?

She tore through the alley, ducked into a doorway, and tried to squeeze into nothingness.

Trapped. A rat in a maze, a tiger in a cage, every cliché he could think of—he was trapped.

The building shook, lurching and jumping, and the little china horse fell off the mantel.

The prickles on his neck told him he was being watched.

The sun was soft and the boat rocked gently. It wasn't so bad running out of fuel, until . . .