Hello! Sorry I have not posted in a while I have been busy with ALL kinds of stuff from chicken accidents to school to a friend's birthday party!  So I have not been keeping you updated on my babies.  
I have a surprise… They are laying!! Our baby chicks and teenage chicks are laying eggs!  YAY!!!  If you remember, a friend of ours, Mrs. Pamela, gave us the teenage chicks. They are Red Sex Links and White Leghorns and there are four of them. We bought the bantams from Welp Hatchery.  There are probably 15 hen bantams laying eggs. With another 15 or so roosters… anybody want some roosters?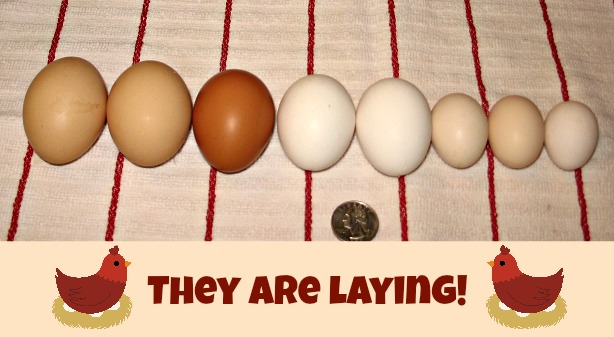 Here is a picture of the variety of eggs we are gathering daily. The eggs vary in shape, size, color, and weight. The biggest ones are from our Rhode Island Reds that we have had for several years. The next brown one and the two white ones are from the teenage chicks. The cute little bitty ones are from my baby bantams… but they are not babies anymore!  I have not found any itsy bitsy eggs from our Dutch, Blue Bantam chicks yet… but am expecting to find one of them soon! Can you imagine how little they will be? The smallest eggs so far are about 1.5″ x 1.25″ to the big eggs that are 3″x 2.5″. The color ranges from a white/cream color, to a reddish-brown and then just plain tan. And the shape of the eggs can range from a normal ovular shape to a pointy bullet-shaped egg. I now have to check all the boxes every day, not every 2-4 days on the bantam side, since they were not laying yet.  
My mom loves the little eggs, she was so surprised at how small they are. Speaking of small eggs… my brother, Chase, loves omelets. My dad has been joking around with Chase saying his next omelet will be a three egg omelet using the littlest eggs. We have not cooked with any yet, but we are having breakfast for dinner tonight… I'm sure my mom will have me comparing eggs and photographing our dinner.  I'll post those pictures soon!  I am sorry I left you all waiting for another post, while all these things at my house were going on. From now on I will try to post more often. 
One final note, we have a possum or raccoon attacking our chickens, and we have lost 3 chickens including two of my favorites… Cuddles and Sunny and another barred rock, Checker, who I have not talked about before. We just borrowed a live trap to try to trap the animal. Please pray we catch whatever it is getting my babies! I'll update you on that soon too!  
See ya soon!