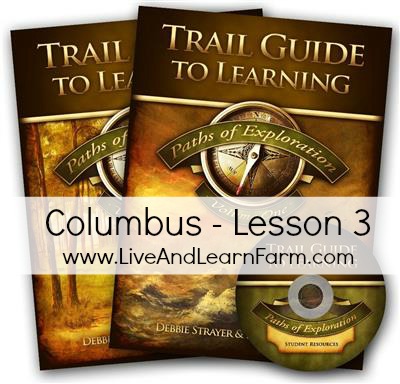 As you know we are using Paths of Exploration by Trail Guide to Learning for our summer all-inclusive curriculum. This article is focused on Paths of Exploration Columbus Unit Lesson 3. If you missed the other posts, click here to see all posts tagged with "Paths of Exploration". This was a great lesson! There was quite a bit of new information and some fun hands on activities for this one!  So let's get right to the way I implemented Lesson 3.
You've heard this a few times now, we don't do the copywork or dictation, so Section A we totally skipped.  
Reading.  The boys read aloud pages 27 – 37 in Meet Christopher Columbus. This is really good experience for all children to practice reading aloud. The boys are getting more and more comfortable with this activity.  I read pages 45 – 69 in Christopher Columbus.  They are really getting to see how the detail of my read aloud is giving them a much better mental image than their reading in Meet Christopher Columbus and giving them ideas on how to use picturesque words in their own writing. We talked about how long Columbus waited for his opportunity to sail west. And how in today's "NOW" generation how many people might not have the patience to persevere through this length of time!  
Word Study.  The word study is very much review for my boys.  So we breeze through these but if you have not covered this information, these are excellent!  Don't skip them … we are breezing through them and treating them like review but they are robust enough that if we had not already covered them, we would be doing them!! In Part 1, we reviewed what an antonym is and quickly read through these, but did not complete the worksheet. Part 2, we reviewed odd past tense words.  In Part 3, we covered the "Who Am I"… these are always fun!  In Part 4 it is all about compound words.  If you are looking to beef up the word study lessons, there are so many wonderful sites for hands-on works!  Montessori For Everyone has free works, Beautiful Sun has a free set, and Free Montessori has some as well. I have an entire post on just free Montessori Materials I've found around the web. Be sure to check it out too!

Geography.  In Part 1, we studied a great deal about sailing ships.  Studying their sails and masts.  We talked about the fabric they are made of and the shape of the sails.  We studied vocabulary of ships.  In Part 2, we studied what Columbus thought the map looked like versus what it really looks like.  A great deal of part two is review also… discussing what a continent is and what land mass is which continent. But we did this for a good review (I love to circle back to information we have already covered and present it a different way, which is what POE is doing).  They had to research and find various island on the globe and mark in their notebook.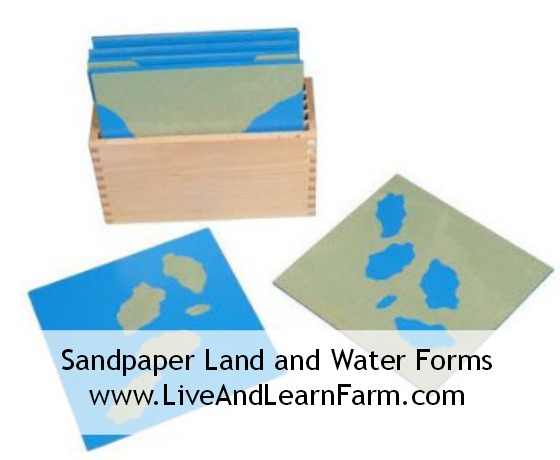 Geography is not covered in Part 3.  Part 4 was fascinating!!  We discussed navigation and what dead reckoning is.  I had never heard of it but we all loved this study and found it fascinating! For enrichment for geography there is so much you could use for this section.  Be sure to study land and water forms if you haven't already.  This is an especially fun study to do while it is still warm!  Deb over at Montessori has a fabulous round up of what you can do with Land and Water forms. Of course, I have a post about Sandpaper land and water forms too. I highly recommend you get some works that help the children actually study about the land and water forms… there are two very traditional works that are used in a Montessori classroom to each this concept.  One is Sandpaper forms (and the cards that match) and the other is trays. For younger students, a sandpaper land and water globe is common.  I found a great site that discussed the dead reckoning technique and asked some great questions for the boys to ponder!  

Art.  Part 1 art was drawing (or tracing) the sailing ship.  Labeling and adding as much detail as they could remember.  Since we did the nomenclature cards from Montessori Print Shop earlier in our study they remembered quite a bit of detail about what the names of the parts are.  No art was presented in part 2.  In part 3, the boys had to draw clouds and research the difference between wind, breeze and gale and discuss what a hurricane is. You know we spent a month at the beach during September in 2010 and we were run off twice due to hurricanes… we have absolutely studied them already … again review, but we are going track the storms through the hurricane season of 2013. That will be a great exercise and good review of latitude and longitude.  Here are some cards from Montessori for Everyone to help teach latitude and longitude.  Montessori Mom has a great activity using balloons to teach it as well as a coordinate game to download too!!  
Writing.  In Part 2, we had a fun project! The boys designed travel brochures to an island! They each took a different one and had to research it.  Poor Blake chose Cuba… not knowing about the political climate there! He learned all about it in his research though!  They researched the maps of their countries and drew them as well.  This could have been included in geography, because it is just taking the concept of what an island is and giving them some names to associate with the concept!  In Part 4, the writing assignment was studying a piece of art as a detective to learn about the time of day, the weather, how close they were to land, etc.  So they were honing their observation skills.  This was a fun exercise too!  
Science.  In Part 3, we studied more about wind, specifically about the Trade Winds. This was a pretty fascinating study too. I did not know why they were called the "trade" winds and how they encouraged trade. In researching this concept more, I found a NASA site that really explained it well!  But this site, Weather Wiz Kids, also has all the experiments to help the boys really grasp this concept!  LOVE this one… I'm bookmarking it!  
Independent Reading.  We are still focusing on our Columbus book library for their independent reading.
Finally, the Enrichment activities in Lesson 3, Part 5 were excellent!
We did not read Carry On, Mr. Bowditch because this is the middle school supplement we will complete after finishing this section of POE.  
Number 2 was cook a recipe from Jamaica from our Eat Your Way Around the World. Blake and I cooked Jerk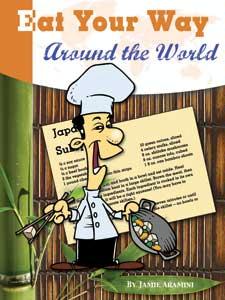 Chicken and it was EXCELLENT! I highly recommend this book! We have only had one recipe thus far that we were not fond of! We have tried other jerk chicken recipes where the spice was just too hot!  This one the boys ate and loved! 
Number 3 is learning about Hurricanes and tracking them.  Here are charts for the Atlantic and Pacific to track them.   
That's it for this Lesson!  We are really enjoying doing Paths of Exploration!