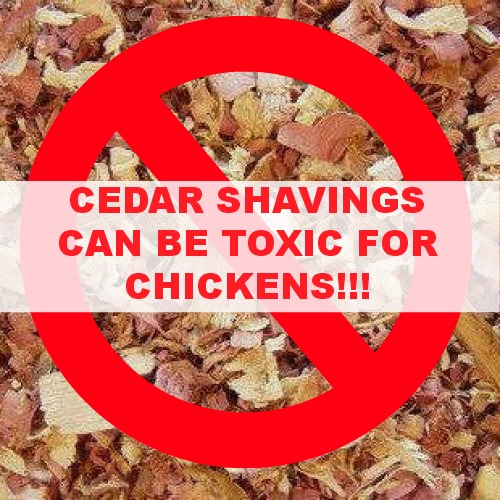 Good afternoon!!  Yesterday I reviewed the comments on my posts and a few people were saying not to use cedar shavings. What's wrong with cedar I thought? Well, after doing some research it turns out that cedar shavings can be toxic for chicks!!!  And, even worse, they don't even have to eat the the shavings or breathe the oil's fumes for it to hurt them. The oil from cedar  can be absorbed through the feet of the chicks.  The oil fumes can also cause respiratory problems and digestive track problems. The safest thing to use is pine shavings which do not have toxic oils. But for the first few days you need to use paper towels.   I wanted to be sure everyone knows not to use cedar for their chicks!
McMurray Hatchery states:
LITTER: Wood shavings, rice hulls, or ground cobs make good litter. Do not use cedar chips, sawdust (It is too small and the birds may eat it instead of their food), or treated wood chips. Sand, straw, or dirt will also work but are not as good as the others. Put the litter all over the floor at least 1 inch thick. Keep it covered for the first day with newspapers to keep the chicks from eating the litter instead of the feed. To avoid possible leg problems, remove the papers after the first day for heavy breeds and meat birds and after the third day for lighter breeds.
Thank you to all who commented for me to change the shavings!  You guys really helped me out and maybe even saved my chicks' lives!  You all have been a blessing!  
See Ya' Soon!