Good Morning! Today I am going to tell you about the things I want to do in 2014, my bucket list. You may be thinking "A bucket list, is that a list of things you do with a bucket?" Nope. A bucket list is a list of things you want to do, before a certain time, like mine will be 7 things I want to do in 2014. Just like my Tween boy Gift Ideas post, this is not numbered from most wanted to least wanted, just random.  So let's get to my 2014 Bucket List.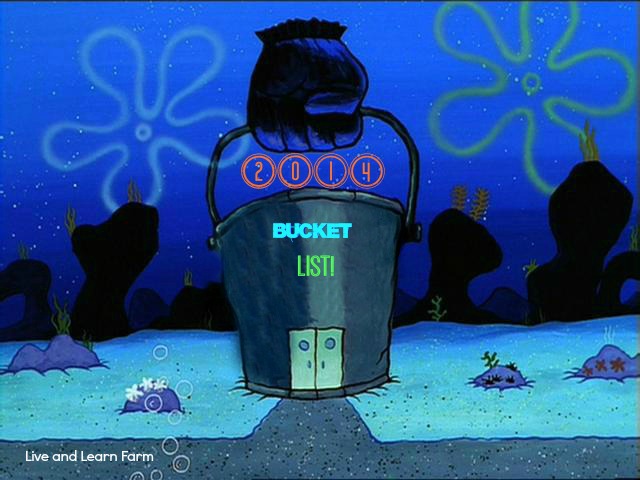 1. Sell  20 dozen eggs in 2014. I want to sell eggs for my business so it can get more known and can help pay for the expenses of raising my chickens.  That will only be 5 dozen per quarter, so I think this is manageable.  I am going to create posters for my dad to post at his business in town.  Since most people living in the city don't raise chickens, they might want my farm fresh eggs! 
2. Make a stop motion Lego video with over 1000 pictures. I have worked on a few stop motion videos over the last few years, but they only had about 200 pictures max. I am hoping I can create one with sound and audio in the background.  I need to learn how to add the audio and sound effects.  Mom got us a Lynda.com subscription so we can do hackschooling and learn things that really interest us.  So, I'm going to look there for some tutorials there.  
3. Write 50 posts for our homeschool blog Live and Learn Farm. I enjoy blogging about my chickens and what's up with school around here, so why not do 50 if they are fun?  That is less than one a week, and we already have it in our homeschool schedule to write one every Tuesday.  
4. Add some larger chickens to our flock so I can get more and larger eggs.  I sure love my basketball bantams, but their eggs sure are small!  So, I'll do some research on the larger breeds of chickens and decide on which one would be best for us.  I have Storey's Guide to Raising Chickens which will help me decide the right breed.  
5. Go to the Pink Palace, and watch their movie on caving. I have been interested in caves ever since I watched a video on blue holes which are deep under water caves that can preserve bones and things for thousands of year.  We just found out we are going tomorrow because the Caving movie will stop playing on January 10th!!!  
6. Invent a useful basic machine or tool or make an already invented one more efficient. I want to create a tool or machine or make one better because if I want think it would be fun and cool to create my own invention. 
7. Master the controls to an advanced RC helicopter. I have been interested in Advanced technology for a while ever since my friend got a RC helicopter I have been trying to master a basic RC helicopter for a while but it only has up-down, and left-right, So It is not very easy to work with.