Good afternoon!  Yesterday as we approached four days until the chicks would arrive, I knew we had to come up with a huge brooder box design.  Our current cattle trough brooder just won't hold 33 chicks.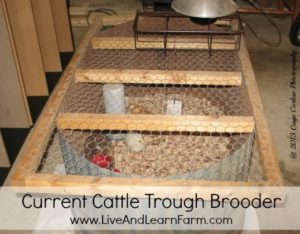 I've been researching brooders,  the cattle trough and dog kennel designs would not work nor would any of the other designs we looked at.  I visited BackYard Chickens to see the suggestions out there.  They have a long list of ideas, but I needed something that would hold 30 chicks and to make it out of things we already have here.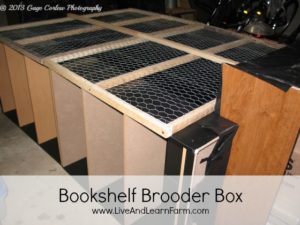 Dad and I were in the barn looking at some cabinets we have but they looked too small to me.  So, I decided to use some old book shelves we have in the garage.  They were left over from our recent classroom redesign and I knew I could arrange them into a large brooder box.  We moved them into the shape of a rectangle  (5'4″ x 2'3″) and taped large garbage bags onto the backs of the bookshelves so they would not get ruined.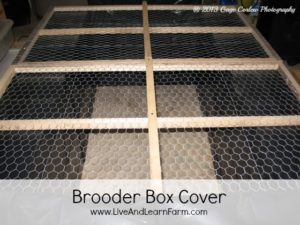 After we got the bookshelves in place and bags taped on the backs,  Dad and I started making the cover to the brooder box.  We made it out of tomato stakes and chicken wire.  We decided to use two covers instead of one giant one, which makes it easier to open.  There are only a couple of things that need to be done to be completely ready for the chicks to arrive:
put cardboard on the floor under the shelves

put some shavings in the bottom of the brooder

get another feeder

get another waterer

get another heat lamp

find a recipe for jump starter for the chicks when they first arrive to help them regain their strength
Today I met with our post office manager to ask if they would call me when the chicks arrive from Welp Hatchery this week.   I should be finished with the rest of this list by the time the chicks get here.  When I find a good kick-start recipe, I'll post it here too.  
If you see anything that I have left out of the brooder or the things I need to get, please leave a comment down below.  I check them everyday after class.  
See ya' soon!