Good Afternoon! The other day I was outside playing and my brother, Blake, came out and said "we have a problem with Rocky!"  Rocky, our Rhode Island Red Rooster, was limping.  Rocky is about 3 years old.  He was limping so much that I could catch up with him and sit him in my lap (which I have never been able to do before).  I inspected his feet to see if I could see a problem and it appears he has an infection called Bumblefoot.  Bumblefoot is an infection chickens and chicks can get from walking on hard surfaces which can cause cuts to the chicken/chick feet where bacteria can enter and cause an infection.  What I've read doing research says when a chicken has Bumblefoot there will be an iconic scab.  I think this is what Rocky has on his foot.  Here are some pictures of Rocky's foot: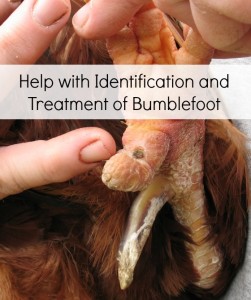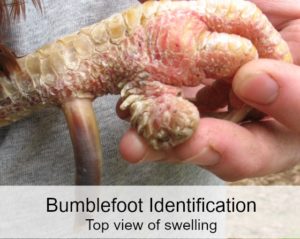 I am not sure how to treat the infection.  I have seen and heard many ways to clean out the infection and stop the pain.   I have been researching what to do and I found this list on the Chicken Chick's site where she describes one way to treat Bumblefoot.  I've copied it below:
peel off the scab after soaking the foot in Betadine mixed with water

then squeeze the infection out

if it is stuck, cut a little bit with a sanitized knife until you get the infection out of the foot

then apply Vetericyn

after applying Vetericyn wrap foot (or pinkie toe in our case) with vet tape or gauze.
Please, can someone confirm that this is Bumblefoot.  And please let me know if this is the right treatment!  Or if I need to do something else.  
Thank you!   See ya' soon….