"Sir, there has been a misunderstanding, I am not the President!" I say to the well-dressed man who just addressed me as the President. "No, Mr President, the people just decided there should be a teenage President with an assistant to help him with the job. We had a computer randomly choose someone as President, and you were chosen," the man said. "But I don't think I have the qualities to be the President!" I say. "Maybe not, but that is the reason I am here. I was appointed to be the assistant of whoever was chosen." he said.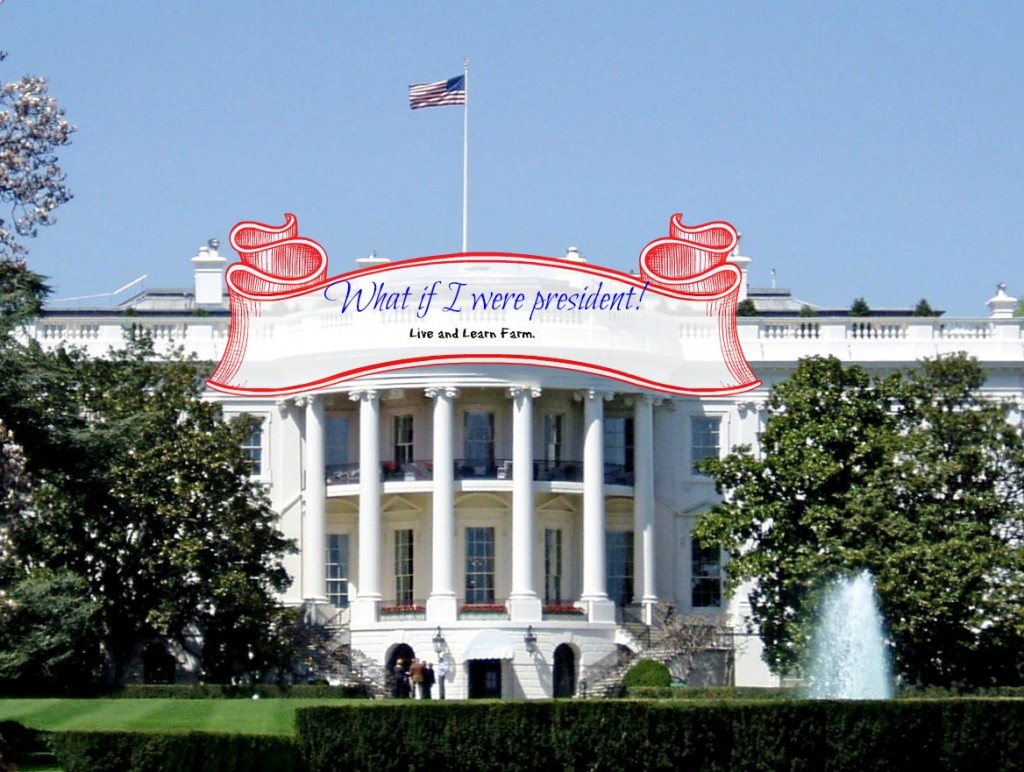 Soon after we finished our talk, he led me out to his car, a long, black limousine. After getting seated and situated, we start our drive to the airport. When we arrive I spot a sleek airplane from the window of my car. My assistant said that is what we will be using to get to Washington, DC. The moment we enter the airport, two men start escorting me to the plane. Once on the plane, I am offered a meal, which I happily accept. My meal is chicken, covered in spices with a side of rice. The meal lasted the whole trip, because after I finished the meal, dessert was served… a snickerdoodle cake, my favorite. How did they know that, I wondered as I devoured the scrumptious slice of cake.

As soon as we arrived in DC, we got in another limo and were on our way to the White House! As we pulled out of the airport, two black cars surrounded us. One in the front and one in the back of the limo. My assistant saw me eyeing them and explained they are our escorts. After about 30 minutes of driving, we arrived at the White House gates.  The driver showed the gate manager his card, and once it was confirmed to be real, we were allowed in. When we pulled up to the entrance, I hesitated.  I was not sure if I wanted to go in… I mean being the president is not something I studied in school. My assistant noticed my reluctance. Sensing why I was worried, he said, "Don't worry I will guide you through most of the work and hard decisions. I'll give you the pros and cons on each situation and you get to choose how you want to handle it." This comforts me tremendously, and at that moment, I decide to do the job as best I can.
My assistant takes me to my office where I find a suit my size is laying on my desk. He casually states "Your live interview is starting in 5 minutes, hurry up and get dressed." "WHAT!?" I scream. "Don't worry … you just have to read this to the press." He hands me my speech and leaves so I can get dressed. In five minutes I find myself in front of a hundred or so people, with notebooks and taking my picture. Almost all of them are asking me questions, which my assistant deflects by asking everyone to quiet down so I can read my speech.
After the interview, work starts slowing down and getting less exciting … bills, papers, speeches, meetings, limo rides, flights, bills, papers, etc. Then, in what seems like only a week, I am shaking the hand of my assistant as he walks me outside and says "this limo will take you home Mr. President. I hope you enjoyed your time with us as much as I did." After finishing our goodbyes, I get in the car and am driven home.
From then on, life gets back to normal.  Well, except for people saying "Wow! I can't believe you were the President!" and things like that. Yeah, life was pretty normal until one day the phone rings… I immediately recognize the voice on the other end of the phone.  He says "Good afternoon Mr President, How are you? I hope you have enjoyed your time off…  but something has come up"… 
Hope you all enjoyed my post on if I were the president.  You never know, I might have a sequel to this!
See ya soon!