Have you ever wanted to spend time outside, but didn't know what to do? Or maybe you wanted to do an activity outdoors, but didn't know how to do it. Or maybe you were simply bored with your normal activities. I know, I've been there on more than one occasion.  So to help all of us come up with some creative ideas, I've decided to start a new series, Backyard Activities for Kids. I'll share activities you can do in your backyard or neighborhood that are affordable, educational, and will be fun for all ages!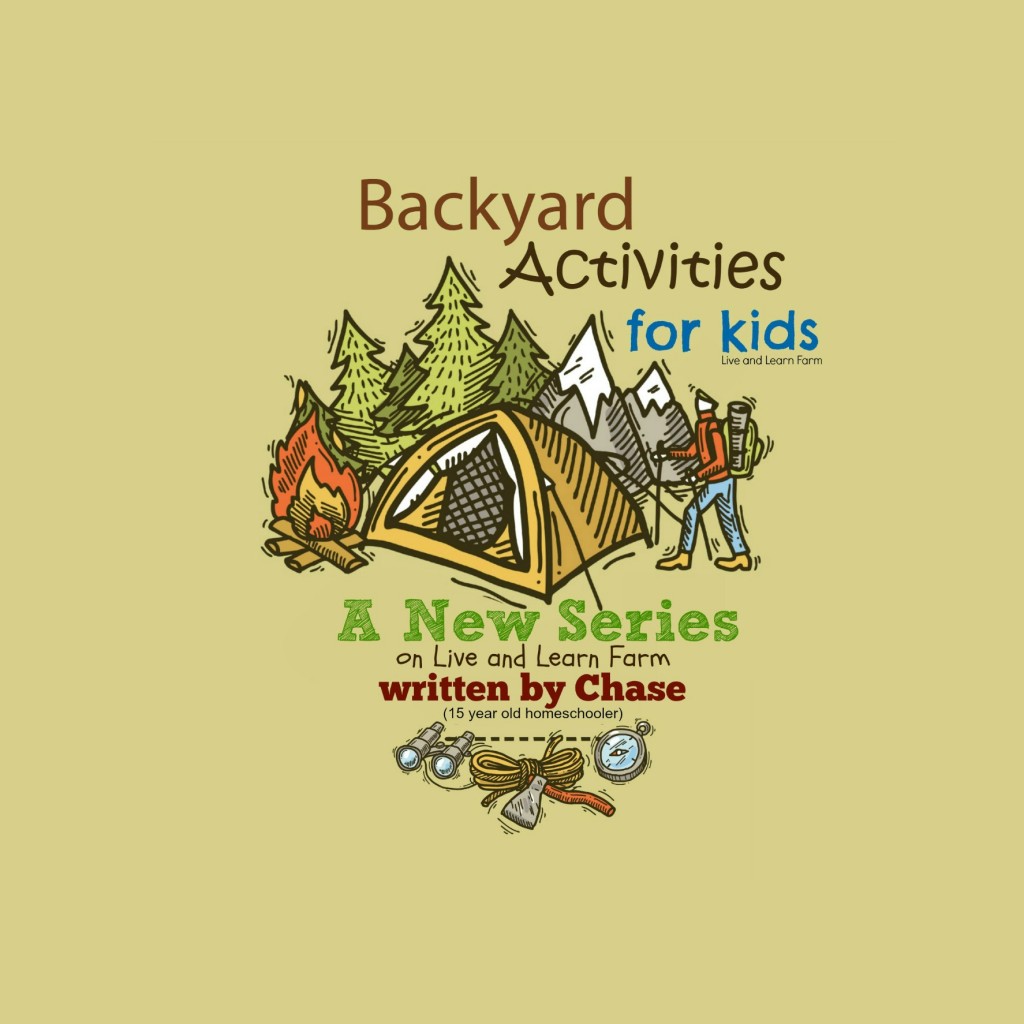 Before I get into the series, I thought I should give you a bit of the back-story on why I decided to start writing this series. For my entire life, I've lived on a forty acre farm in southwest Tennessee. It's been home to me for almost sixteen years now, but it's quite possible we'll be moving soon. As our needs and desires change, we have to change our way of thinking and living as well. So, a large house on a farm isn't quite what we're aiming for anymore. But during the last decade and a half I've done a lot of things on this farm, and I want to share them with other people so they can enjoy them too. And most of these things aren't exclusive to homesteads, you can do most of this just as easily in a neighborhood or large city.
With forty acres we have a variety of landscapes and types of areas that we can (and do) use for our outdoor activities. Those include a pond that covers about an acre, a horse / cow pasture that is fenced in, thick woods with lots of hardwood trees, open fields, a garden area, a small stream and our front and back yards.  Here are a few pictures I've taken of these areas over the years.
This slideshow requires JavaScript.
I'll be covering a lot of summer activities, but I'm also going to make sure to add plenty of educational things to do too. For most of us, the weather outside is getting warmer and warmer, and here it's great outside. So why not combine the two, learning and outdoor time? I attended a Montessori school before homeschooling and we had a formal outdoor classroom there. We haven't actually set one up at home, but we have always used our 40 acres as a classroom. A place to explore and enjoy. I'll be covering things we have done or plan to do this year. Topics will cover astronomy, biology, botany, practical life skills, you name it! Basically anything that you could do outside. And I'll even sneak in some math and language, because it can be done outside too!
In today's world, people are busier than ever with not much time left to enjoy the outdoors. So we have to be more focused on making the effort to slow down and get outside with our families. Outdoor activities seem to bring back some quiet and peaceful balance to our busy lives. Not to mention they are fun and create memories that will last a lifetime. You may actually find out you enjoy spending time outside more than you realized!
In one of my first posts I will discuss some of the outdoor daytime activities we normally do when we are camping. As an avid camper, I can tell you there are a ton of things you could do. From hiking to scavenger hunts, the possibilities are almost limitless. Add in some creative ways to document the camping trip and you have a homeschool unit study happening.
I hope you will follow along to see what backyard activities I will be sharing!