One of the concepts that I found to be uniquely Montessori is to teach visual perception of dimension at a very early age. It is important to help our children develop their visual perception skills because it is this skill that helps our children relate to their visual world. Our ability to process what we see is critical in every day life, and in learning. What our eyes take in, our brain interprets; and this interpretation creates a picture that renders meaning. From that meaning our brains created, we then make action plans. An example would be, when you see stairs ahead, you prepare yourself to either step down or up, based on your ability to determine which direction the steps are going. We interpret our world in a way that aids us in organizing the objects and space around us. So developing this skill early will not only help their motor skills, it will help our children with their ability to read, write and build things. Because all these abilities are based on an understanding of how things go together, including symbols such as numbers and letters. Today's item: Almost Montessori Nest & Stack Cubes.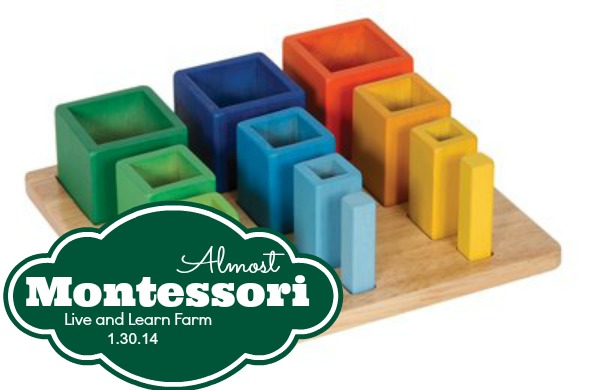 If you are enjoying this post and want to see more, please sign up for our newsletter, join us on Facebook and Google+, follow us on Twitter and Pinterest or sign up on the right to follow our blog.
There are two sets of these. The first set are cubes, which are 56% off with 5 stars.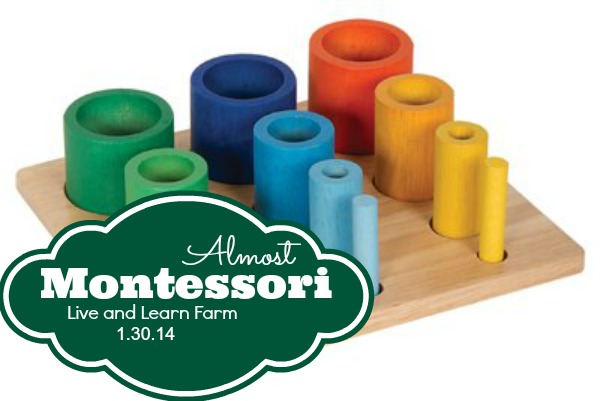 And this set are cylinders and these are 63% off!
In my mind, these are similar to the knobbed cyclinder work that is a traditional Montessori work, even though these do not have knobs. It does have the base which will help children determine which item will go where, because the base has only one cut out that fits each piece.
Below are lessons on how to present the traditional work, knobbed cylinders, that you will need to adapt to use with these.
Wikisori has a video of the presentation, directions for the presentation and extensions.
Montessori World has a great written presentation for this material including vocabulary that will help children define these pieces.
Some fantastic "Strike the Imagination" books and games are below.
I hope this article will be a blessing to you and your homeschool!